It's last day before travel out on assignment ... so I agree to go flying.
Wind direction is not so good so we use another gravel road from our normal.
On way to the site - the Dog Guard in back of car swung down by itself after a bump and broke tail of my Cessna ...
I get to site .. take out the Cessna - which is my start model to see conditions and get fingers moving ! Pre-flight check shows the snapped stab ....
My mate is flying his Cessna and having a ball ... but landings are a bit iffy where we are.
So determined to fly ... I power up my Scratchbuild ME109 ... check out ... open throttle and away she goes ... she lifts but she's sluggish ... seems not enough power ... and she banks to left .. I try to level her to land out ... but wing tip catches a raised hump of dirt ... over she goes ... snapping fuselage in 3 places.
Now at this point - I should graciously pack up and go home ... no not me !
Out comes the HK Racer 540 Edge ... I decide that today with conditions to only fit the 3S 2200 .... away she goes and no problem.
But eyes start to water in the cold breeze ... orientation is getting hard at distance in the grey'ish day and my watering eyes ... so I decide it's time to call it quits. The 540 is a hot landing machine and unfortunately cars are parked at end of road downwind. I walk upwind a good distance warning my pal that I'm going to be landing along the road .. he stays at the cars.
I abort first landing ... too close, too hot and there's a deep channel next to road that was beckoning the model in !! Power and pull away .. round again but further out this time ... she's lined up ... but boy is she travelling .... My mate jumps to the side as the 540 is still gliding hot .. I see the cars coming up and decide it's chop and dump ... BHAM - hit his cars passenger side tyre a glancing blow ... both wings pop of ... cowl and motor separate from body ... but amazingly - the wheels stayed on !!
My mates laughing his head of !!
We pick up the pieces ... and decide enough is enough ....
We leave the site and decide we will go and see another flyer who we know is flying at another local site just down the road ...
Hello's all round and all that .. my Mate asks if I'm going to fly anything - as I have another couple of models in the car ..... I think about it and then decide to fly the Ultimate Biplane ...
She takes of from the rubber strip I had laid as runway ... and trims a bit strange .. but she's flying well. Loops, rolls, and then I'm into an inverted routine ... all's going well ... then out over the field she's inverted, and I go into a tuck and under loop to come out right way up ... TOO LOW !
After she finishes the cartwheel ... that's both wings snapped of one side ... underside of nose is smashed ... struts snapped ... there's all sorts of wood bits rattling inside the wings ...
We collect as many of the bits as we can find ... and bag them up ...
I go home.
The Cessna took 5 mins with hot glue to sort the stab ..
The 540 Edge with the clip on wings ... luckily this saves the wings ... and fuselage is only split seams ... as it wasn't a head on smash ... it was right wing hit the wheel ...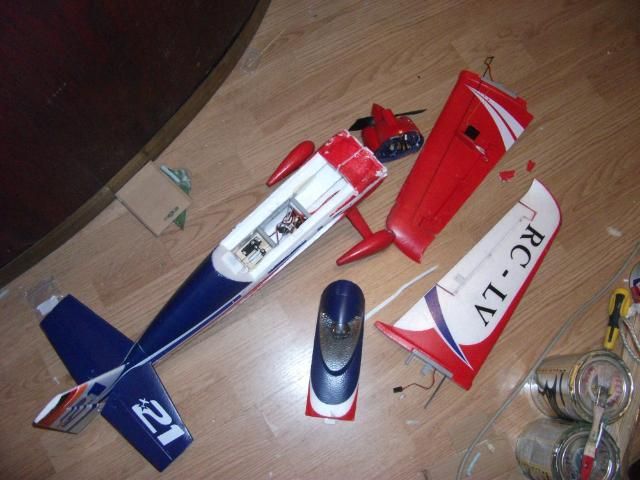 After about 30mins work ... firewall is back on with motor, cowl splits are CA'd / Hot glued ... fuselage seams sorted ... wings back on with the couple of small pieces glued back on ... She's ready to go again.
The ME109 and Ultimate will take a lot more work and can wait till I get home again ...
But truly just one of those days ... I think I am not the only one who has them !
The 540 flight and crash is video'd but I need to sort it before upload ...
Nigel