Why is there so much excitment about 3D printing?
Let's find out. Go to thingiverse or the universe of things and type in and search for. "servo"
http://www.thingiverse.com/
Today I got 581 hits when I seached for "servo" Okay so what? That is 581 free servo "things" that you would have to choose from that you could print right now if you had a 3D printer. So what's the catch? You have to have access to a 3D printer to make use of them.
So what exactly is a 3D printer?
A 3D printer is basicly a computerized glue gun. Only instead of squirting out glue it squirts out plastic. With the acuracy of a cumputer printer. It builds part in layers, Say you are building plastic motor mount. The 3D printer would draw the bottom layer of plastic much the same way a computer plotter draws on a piece of paper. Then it moves up and draws the next layer stacking plastic layer by layer until you have a complete motor mount.
How stong is it?
That depends on what plastic you use. Most use PLA or ABS . ABS plastic is the stuff legos are made of. If you have ever stepped on a lego with bare feet. It hurts your foot but not the lego. And PLA is even stronger. Just for the fun of it I stepped on a firewall/motor mount/ nosegear mount. I made for an airplane. It didn't break.
Below is the picture, the on in the center is the one I stood on. The picture does not show it very well but the part is hollow. The outline is 15mm thick so it has plenty of gluing surface. But the top is smooth. The holes are for the motor mounting and wires, and of course cooling. The plastic thing at the bottom is where the nosegear will be and the gap is for the steering arm. So intigrated into this one piece is firewall, motormount, steering arm, not visable are stick attachments point and holes for the cowling all in on part. No trying to cut small holes in plywood here,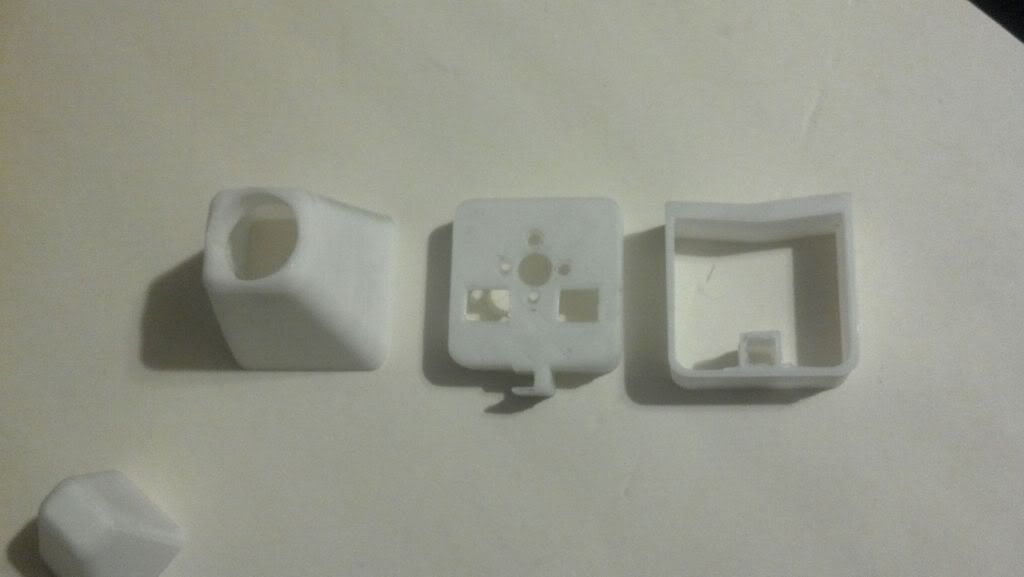 This next picture is experamental landing gear for the slowstick. That is why the little square at the top. Not yet ready but close. It still needs some tweeking. There are some size limitations on what you can print. That is why I printed it in three pieces. It is plenty strong might thin it out and make it lighter.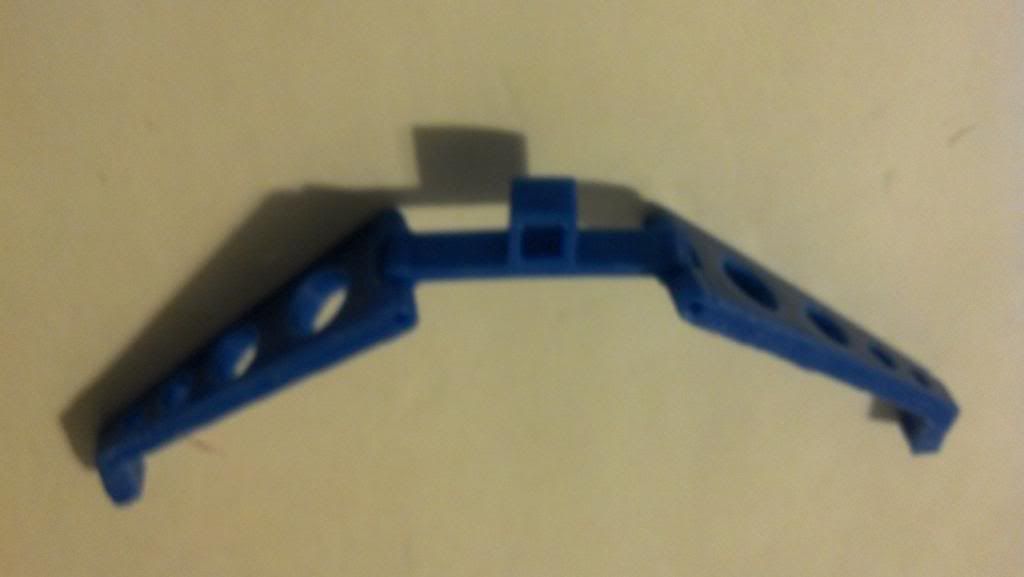 This next picture is of a cowling for an Eflight Mini Pulse. The one on the left is the printed one. The one on the right is the Eflight cowl. The weight is pretty close. I printed this one nose down the program filled in th holes I am not sure why?
This next picture is of a Slowstick motor mount. I got tired of replacing cheap plastic motor mounts that I could get in the hobby shop. The one you are looking at goes to a Slowstick Bi-plane that had a bigger then normal motor. I think the mounting holes are 19mm apart if I remember right. When my son tried to buy them they were back ordered. He didn't want to wait so I designed and printed him one and he flew it the next day. That was a year ago. I made it thicker and stronge, now the motor mount doesn't break every time he hits the prop.
This one I just did for fun. I found the file on thingiverse and thought I would print it. It is acually a model car engine casing. I was thinking maybe I would paint it silver and hide an electric motor in it?
This picture is of some cowlings I made, they are only one layer thick and I wasn't sure how steep of an angle I could print that thinly. It turns out to be about a 45 degree angle is about as steep as you can do reliably.