I thought I would post this showing my idea of a Bungee launcher that can be easily made, works well and above all keeps pilot reasonably clear of dangers.
Materials :
10 mtrs of 8mm bungee Hi-Start, I bought mine from Hobby King - but any reasonable Hobby Shop who serves gliders will have it.
25 mtrs of 3mm braided hi-visibility light line from local DIY shop.
1 mtr 5mm braided hi-visibility line from local DIY shop.
3 metal key rings about 1/2 - 3/4" diameter.
2 pce Plywood 8mm thick about 25cm long, 1 x 8cm, base at 12cm wide.
1 pce plywood 8 x 12cm square, 8mm thick.
1 small door hinge.
7 standard metal tent pegs.
2 lengths of standard 1/2" plumbers plastic pipe with elbows, tees ....
Construction :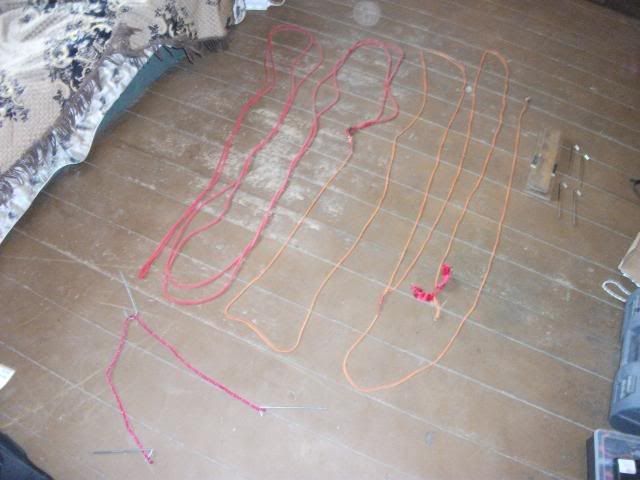 As can be seen in above drawing ... for main anchor I use 3 tent pegs in a triangle. This provides more than 10kg capability to hold even in light ground as we have in Latvia.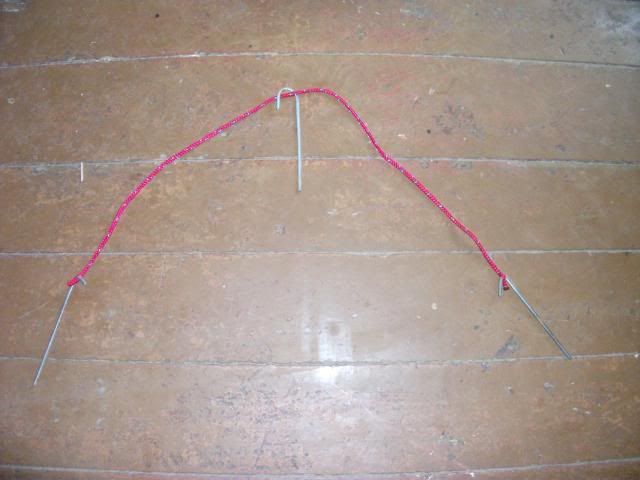 The loop formed in the bungee by doubling back is re-inforced by use of electrical tape. This provides protection against chafe and wear against ground and securing peg.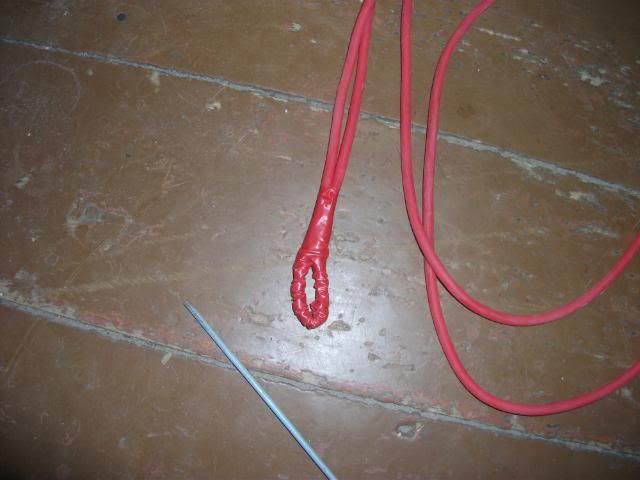 The bungee has at intervals lightly applied loops of insulating tape, not binding - bungee allowed to stretch etc.
The joint of bungee to light 3mm line is made with a key-ring to again protect the bungee from chafe and wear ...
I tape up the loose ends....
The light line then runs for 7m + a little for joint ...
At the 4m point a small loop is formed to allow the short 2m model line to join ...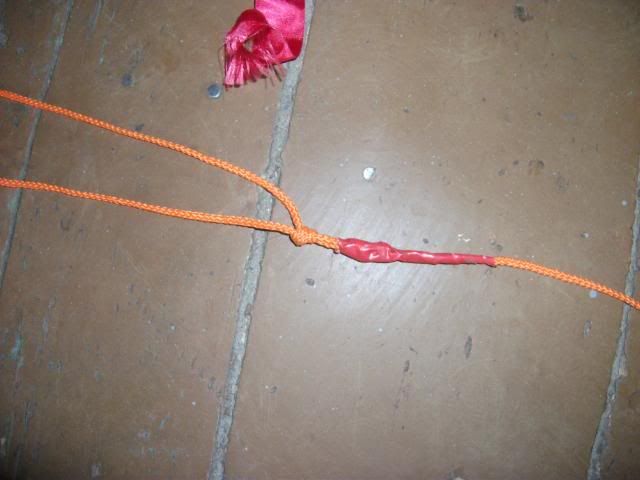 Again taped up ...
The 2m model line then terminates in a key ring ..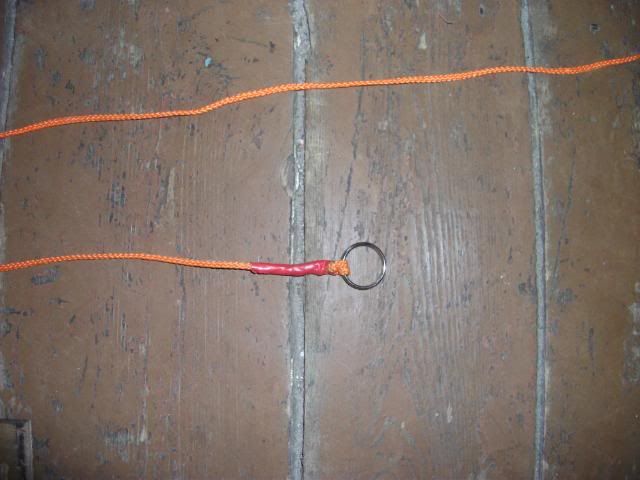 The 3m trigger line also has a key ring at end for placing over trigger pin...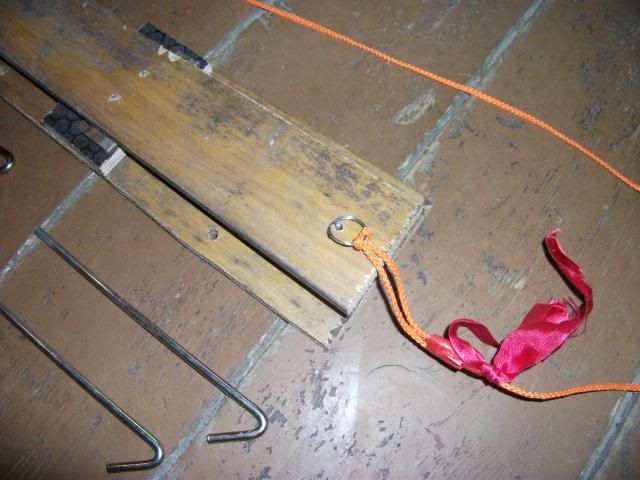 The small red ribbon is there to help you find end after use !! Plus it adds a bit of drag to the line after line drops away from model.
The trigger needs a trick to create ... as you cannot get to the screws of the hinge ! So screw hinge to one long piece of ply 8cm wide at halfway point. Then other side of hinge to the square piece .... You can now screw the square piece to the base piece at 12cm wide. Once joined and hinge tested ... you then drill through BOTH pieces of ply at one end and glue in metal pin. Pin should be no longer than top of ply when foot presses on ... as this will 'push' ring of the pin.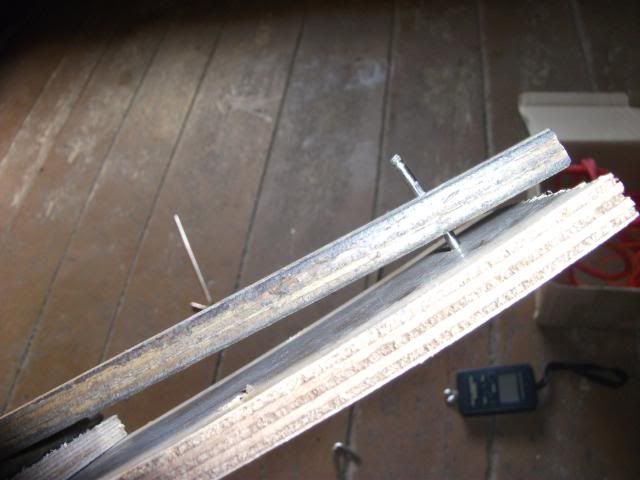 The base is drilled at corners to take 4 tent pegs to anchor it down.
Here is the ramp I use and is approx. 1.2m long ... with legs 40cm at rear, 70cm at front. The cross piece to join at rear is at ramp level, but front cross piece is down the legs to allow prop to clear ....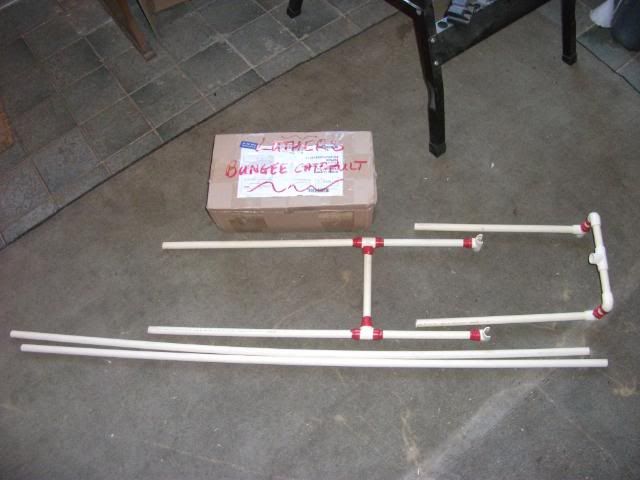 The bottoms of legs are left plain so they can be pushed into the ground ... altering as you need the angle of ramp.
Usual angle I found was between 30 and 40 degrees.
From my old glider days ... I reckon to have at least 6x model weight tension on the bungee ... ... My EDF is about 600gr and launches beautifully on 5KG tension.
The ramp breaks down into sections and bungee rolls onto a ply card ...
Best thing I made for launching ........ true Independence !