Originally Posted by
mcdcarmel
Help!
I'm about to start building a Bob Martin's Pusycat sailplane that I had in storage. The plans have an option for Cox glow power however I'm going electric. If anyone has done this with a similar balsa plane (2m), I need the recommended motor, ESC, battery and prop sizes. Any help would be appreciated
Welcome to the Wattflyer forum! I personally was addicted to all the Bob Martin gliders. I had a Bobcat, cat, Talon, Super Talon, Katie II & Coyote.
On my cat, I had real good results with a motor pod just like this one:
http://www.ebay.com/itm/like/300895250068?lpid=82
There are lots of good motors out there and those will determine how much prop you want. If you dont do the pod thing, for sure go with a folding prop.
Hyperion makes a great line of motors for gliders that have tapered cases to fir into streamlined glider noses. A great place to start is with the Hyperion 3025/12 motor, a 30~50 amp ESC, and a 10x8 folder.
There is also a real good Himax brushess kit available that works awesome with 2 meter gliders, I have it in my Easy Glider Pro:
http://www.hobbylinc.com/htm/mpu/mpu...Fajm7AodQHAA5Q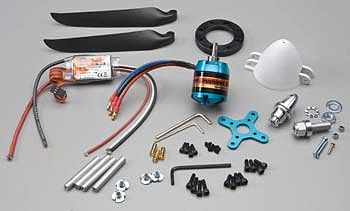 For the price, its ready to go and all matched.