Today i was hooking up one of my 6s batteries to the charger only half concentrating on what i was doing and I must have accidentally bridged between the + and - bullet connectors with the male bullet of the charging cable.
There was a big flash and this is what the 5.5mm bullets looked like a millisecond later: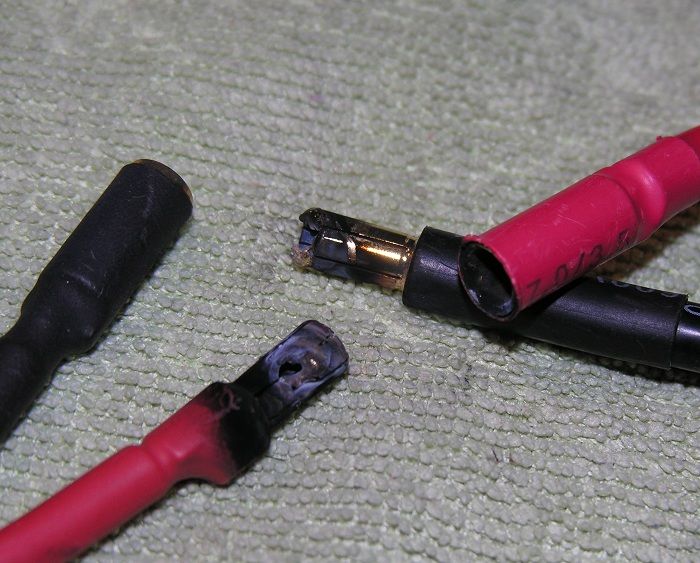 The burned male (red) connector on the left is the charger cable, the two connectors on the right are the +/- off the battery, all are beefy 5.5mm bullets. the spark blew the end off one bullet and burned a hole straight through the side of the other!
Close up: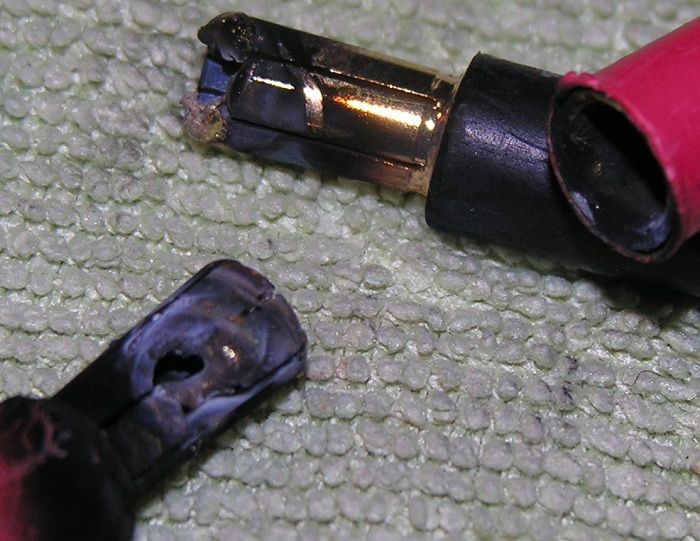 Luckily that was all the damage apart from a couple of tiny burns on my finger caused by flying molten metal (sounds worse than it was). Normally I keep a cap over the male (negative) battery terminal until I've connected the positive side up, but today I must have been daydreaming.. There's a lesson to be learned -
Always concentrate when working with LiPos!!
This wasn't the only lesson though. I went about replacing the battery bullet connectors. These were original factory supplied connectors on the Turnigy LiPos.
Here's what the soldering socket of the male connector looked like:
Notable is the TOTAL lack of any solder in the socket
All that was connecting the wire to the bullet was a thin fillet of solder between the side of the wire and the edge of the bullet, and that only ran around half the circumference. I shudder when I think I was pulling 140A through that connector.
So lesson number two -
Re-solder every connector on your LiPos!
(especially cheap ones)