Lancaster Bomber from HobbyKing
06-23-2017, 10:28 PM
Super Contributor
Join Date: Oct 2010
Location: Ex UK Brit now in Latvia west coast - Ventspils
Posts: 12,371
---
Just checked CoG .. upright and inverted (I do both as this model has a shared weight up / down ... ) with wheels DOWN ... just a touch under 55mm - spot on as before.

With my battery position that allows a 1750 through to 2250 LiPo as well.

Nigel
05-02-2018, 09:09 AM
Super Contributor
Join Date: Oct 2010
Location: Ex UK Brit now in Latvia west coast - Ventspils
Posts: 12,371
---
Well it happens ....

The Open Season meeting at Cirava - my tired old Lanc of course went ....



and true to the old saying 'never photograph tempting fate' .....



She's being repaired ready for Open Day at local Airport where I have been invited to put on static and flight show .... should be good for a laugh !

Nigel
06-08-2018, 08:25 PM
Super Contributor
Join Date: Oct 2010
Location: Ex UK Brit now in Latvia west coast - Ventspils
Posts: 12,371
---
My Lanc is one of the early version 2 and its still flying without all the kerfuffle ....
But I have to admit it does have a mean streak at times.
But at the show 26 June where I was asked to put on a show for local Airport Open Day ... here she is :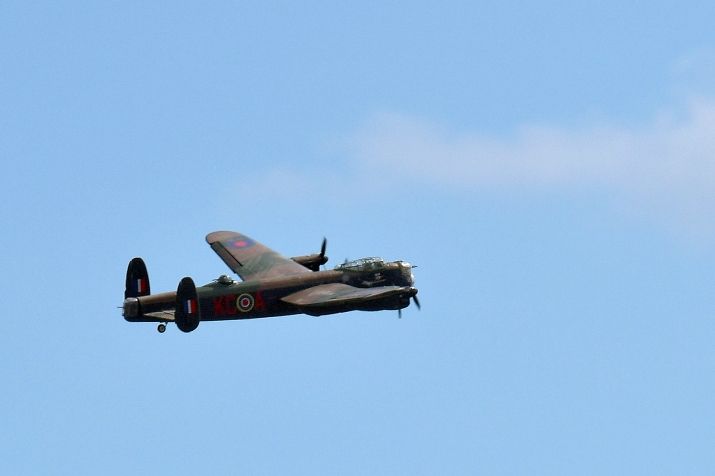 I have to admit that shortly after the photo was taken by local newspaper ... she did her spiral of death !! BUT she is presently being repaired and will be gracing the skies again.
Some know that my family (Mother) had a special relationship with Lancasters ... and I will always have a Lanc in my hangar ....
I have a 93" Lanc on the building board that is slowly coming together ... it will be in the scheme of one of the Lancs my Mother ran R+I crew on during WW2.
Nigel
06-09-2018, 10:16 AM
Super Contributor
Join Date: Oct 2010
Location: Ex UK Brit now in Latvia west coast - Ventspils
Posts: 12,371
---


My beat-up Lanc must be kept going until the big Lanc I am working on is completed. And that needs my workshop facility due to sheer size and build.

Repairs are already 60% done ... wing has been rejoined, tail reset, just needs two nacelles reglued, one retract mount reset, crack in fuselage over wing glued.

One trick I use to make sure tail gets glued back correct ... its a common break to have elevator stab crack its joint to fuselage .... I hang the model down a door by the elevator stabs ... this keeps them aligned and also level. Sounds daft I know - but it works when they crack that joint but still connected / fixed by part of the joint.

Nigel
Thread
Thread Starter
Forum
Replies
Last Post
Sport Planes (Formerly I/C & Gas Conversion)
General Electric Discussions
Indoor & Micro Electric Planes
Currently Active Users Viewing This Thread: 1
(0 members and 1 guests)
Posting Rules
You may not post new threads
You may not post replies
You may not post attachments
You may not edit your posts
---
HTML code is Off
---