Stretching your heli
08-16-2014, 08:31 AM
Stretching your heli
---
So 'stretch' in heli terms is putting on a longer tail boom so you can fit bigger rotor blades without then hitting the tail blades (blades hitting is very bad!).
I decided to do a 'stretch' on my Align Trex 600 Pro so i could fit larger tail blades (105mm up from 95mm) plus use some 623mm main blades that I picked up. The standard set up with 600/95mm blades has only marginal clearance between blade tips so not much room for any increase in blade size.
To fit these blades safely would require a longer tail boom. Luckily the boom, torque tube and tail control pushrod aoo a Trex 700 are more than long enough and of the same diameter, so hopefully could be made to fit.
Hopefully this might be a useful reference for anyone here thinking of doing something similar.
So the proposed stretch spec is:
Heli: Align Trex 600Pro DFC
Main-blades: Edge 623 LE FBL
Tail-blades: Edge 105mm
Tail boom, Torque tube and pushrod: Trex 700e cut down
I wanted to minimise the boom increase as far as possible to prevent the heli becoming tail heavy, and also to stop it looking like a stick-insect
, so going all out and fitting the much longer unmodified 700 boom was not an option.
Minimum for the stretch is the sum of the main and tail blade length increase, so thats 23mm for the main plus 10mm for the tail = 33mm. I rounded up to 35mm.
The work only took one evening. The boom has to be cut down and a longer locating slot cut in the front to fit into the 600 boom mount. I cut it down from both ends to make sure that the writing on the boom didn't end up being partially covered by the pushrod guide (just me being fussy). The holes for the front locating screw and the pin that locates the tail drive were match marked after trial fitting the boom and then drilled. This was all pretty easy.
Cutting the carbon pushrod down was easy enough and some heat got the threaded rod and metal end cover off without too much difficulty. Only thing to note is that the threaded rod and ball joint on the 700 pushrod are bigger than the 600. I drilled out the 600 plastic ball joints to fit the thicker 700 screwed rod.
The trickiest job was shortening the torque tube that drives the tail rotor. The tube is thin wall aluminium with the end drive spigots screwed into the tube with an internal left hand thread on the tube end. The problem is that once you cut the torque tube down you lose the threaded portion, and cutting a new fine pitch left hand thread wasn't an option with the tools I have. No real choice then but to simply press the drive spigot into the tube secured with green loctite. I actually flown it this way six or seven times and it held up ok, but then got worried when someone told me that their similar stretch had failed at this connection, so took the tube out and pinned through the joint with a 2mm bolt. Hopefully it's bullet proof now.
And that was about it, here are some photos:
700 and 600 tail booms side by side.. the 700 is much longer: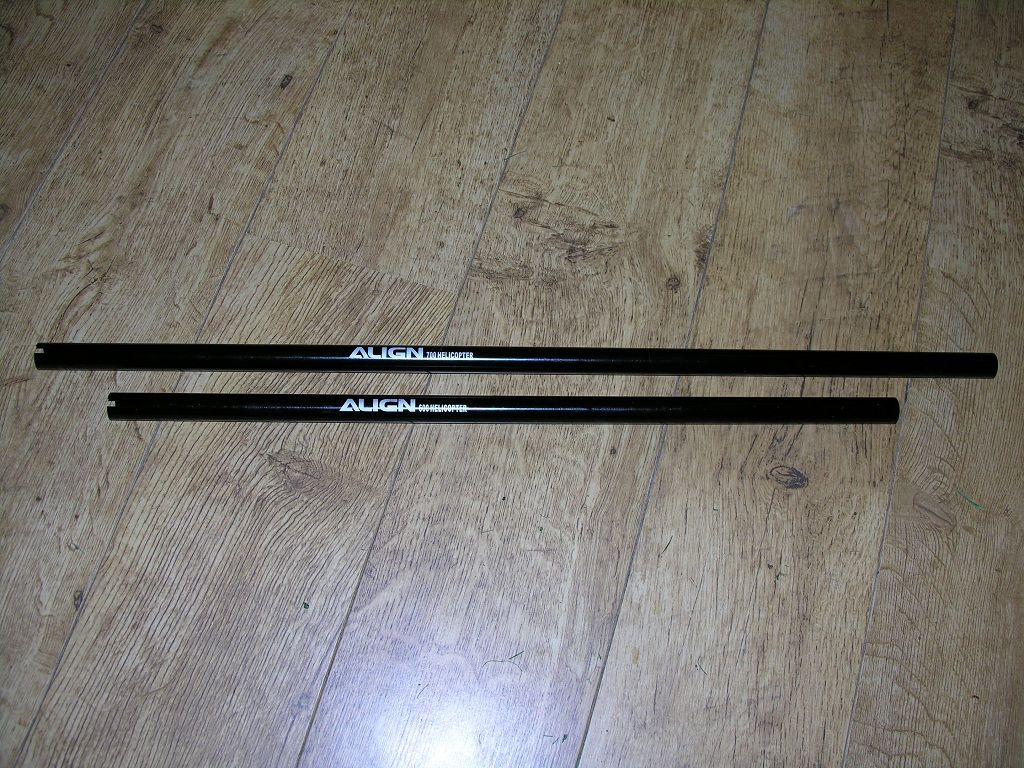 Locating slots, the 700 is shorter:
Shortened and with longer slot cut:
Comparison after cutting down to 35mm stretch:
Pinned torque tube:
Blade clearance after stretch:
Ready to fly:
---
Last edited by JetPlaneFlyer; 08-17-2014 at

09:20 AM

.
08-16-2014, 11:17 PM
---
"I actually flown it this way six or seven times and it help up ok."
Curious how much of a difference
+
it made with your performance......?
I've seen the performance of TT nitro's stretched in a similar fashion, pyros were a little tricky....but otherwise, not much of difference. Then again, they were nitro powered..........
08-17-2014, 09:27 AM
---
Pazzano,

The difference was more noticeable than I expected. I was hoping for some more tail authority because the standard 600 Pro is set up for very high headspeed (2400RPM) so the gear ratio of the tail is low, meaning at moderate headspeed you lose some tail authority and the tail can 'blow-out' under aggressive flying. This worked, the tail felt noticeably more powerful.

I didn't really expect to notice a difference on the main blades but I was surprised in that there was noticeably more 'pop' when hitting hard collective. It was also pulling more amps because i was getting my telemetry low voltage alarm going off when i did some of those maneuvers.

But having said all of this, the difference aren't dramatic, it still flies in much the same way which is a good thing because I like how it flies.
Thread
Thread Starter
Forum
Replies
Last Post
Micro Sized Electric Helicopters
Micro Sized Electric Helicopters
Currently Active Users Viewing This Thread: 1
(0 members and 1 guests)
Posting Rules
You may not post new threads
You may not post replies
You may not post attachments
You may not edit your posts
---
HTML code is Off
---