EDF speed and throttle issue
09-06-2021, 03:23 AM
New Member
Join Date: Aug 2021
Posts: 2
EDF speed and throttle issue
---
I have made foam board RC F-18 super hornet following Ben Harber's plans. I am using parts listed below. The issue I have is - After connecting the battery, when I increase the throttle on transmitter, the edfs speed up and reach to only about 80% max speed before max throttle position and then slow down to 30-40% of max speed when I shift to max throttle position. If I were to immidietly push the throttle to max speed instead of gradually, the EDFs will go to max speed, but stay at that speed only for a few seconds and then slow down to about 30-40% of max speed. In each subsequent tests with the battery still connected, the EDFs reach their highest speed about 10-20% slower than the time before. E.g. if I reconnect the battery and EDFs go to 80% max speed before slowing down to around 40%, then the next tests it will reach only upto 45% max speed, and then slow down to 30% of max speed, so on and so forth. Once the speed dips to or below that 30-40% mark, the speed remains constant irrespective of the throttle position. My battery is fully charged (though, I would welcome suggestion of a battery level tester). I want to make sure the edf speed gradually increases and reaches the highest at the full throttle position in repeated tests. I have used one ESC for each EDF. Both of my ESCs are connected to one battery, and are calibrated as well.

Connected parts list:
1) TWO Powerfun EDF 50mm 11 Blades Ducted Fan with RC Brushless Motor 4300KV (Balance Tested for EDF 4S RC Jet Airplane).
2) TWO ZTW Beatles Series 50A 60A Brushless ESC with BEC for RC Airplane 4S 6S (Beatles 60A ESC with Connector)
3) 3.5mm Banana Gold Bullet Connector Extension Cable for RC Brushless Motor ESC Extension Cable Wire (16AWG 30CM).
4) Flysky FS-i6 radio transmitter and FS-iA10B 4.0-6.5V/DC 2.4GHz 10 channel receiver.
5) OVONIC AIR 3000 50c mAh battery. 11.1V (Main Battery for ESCs)
6) ONE Blomiky 8.14Wh 7.4V 1100mAh 35C Li-ion-Po Battery with JST Plug (For External BEC)
7) BW RC Servo BEC UBEC 3A 5V Airplane Receiver Servo Power Supply
8) Onkuey T Plug Male to 2 T Plug Female Parallel Battery Connector Cable (120mm)
09-06-2021, 06:01 AM
---
Current is too high for battery and/or battery not fully charged?
Have you measured current?
How did you decide upon voltage, Kv and fan-type?
A batterytester is very crude, not really a good indicator for battery state of charge.
EDF calculator on
www.ecalc.ch
Without a
watt/volt/current/multi-meter
you are in the dark.
Until something starts to glow
To trust is good

To calculate is better
Will get you to say within 10%, if input ok.
e-flight calculators & propdata (compilation)

To measure is a must
A watt-meter will more than pay for itself, several times over, your battery, ESC and motor will love you for it.
After calculating, always check/measure current when you have a new/changed setup.
Will also help you find optimal setup.
And it's a great tool for debugging your power train.

About watt-meters and how (not) to use them, by RCG user vollrathd:
www.wattflyer.com/forums/attachment.php?attachmentid=117297

A very long clearance sale, originally 200+$, now literally peanuts:
Hyperion Emeter II wattmeter with local&remote logging, optical&electrical tach, servo tester - RCG
Contents

Closing out at
Reviews by Ken Myers
Tech info & help threads
Increasing max.current, double, triple, simple and cheap
Software and manuals downloads

Careful!
(Always!) keep battery-/watt-/multi-meter wires short:
Too long wires batteryside will kill ESC over time: precautions, solutions & workarounds - RCG
09-06-2021, 06:05 AM
---
Do you have flying experience? With?
Brushless motors each
must
have their own brushless controller.
Don't use banana plugs, poor contact, high resistance, not designed for high current.
Connector tests, plus pictures
translate...www.elektromodellflug.de/hochstrom-st.-bu..html
Older version of that page, contains some other connectors
translate...www.elektromodellflug.de/oldpage/hochstromst/hochstromstecker.htm
Excellent site, do have a look at the controller, motor, charger, power supply, battery etc. tests.
Two connector soldering videos
www.youtube.com/c/Innov8tive8/videos
Connector soldering jig, keeps pins straight in housing while soldering.
wattflyer.com/forums/showthread.php?t=79119
09-06-2021, 06:07 AM
---
UBEC is an old propriatery brand name, a generic informationless acronym for a standalone BEC: Universal BEC.
I prefer LBEC, linear, and SBEC, switching, because those two acronyms give very important info.
Don't forget to remove the red pin ...
... from one of your ESC connectors.
Otherwise you get two (slightly) different voltages: linear LBEC and battery, or LBEC and LBEC fighting each other.
Or in the case of switching sbecs, two frequencies fighting each other.
No need to remove the red pin if you are using a fake opto controller (just bec-less) controller,
Nor if you are using a true
opto isolated
controller, usually high power controllers.
There's also no need to remove linear LBEC red wire if manufacturer says so, but you
must
remove it when using switching SBECs.
But don´t cut the red wire, you may need it again in another plane.
09-06-2021, 06:09 AM
---
If you cannot but extend, extend the motorwires, not the batterywires, and keep controller(s) close to battery(s).
No need for extra input capacitors, resulting in more space, less costs and less points of failure
Too long wires batteryside will kill ESC over time: precautions, solutions & workarounds - RCG
Contents
Two problems
• Voltage spikes higher than battery voltage: transistor / powerFET / die breakdown.
• Current through input capacitors too high: caps overheating/popping/exploding.
• Nonsense Ron, I never had problems with long battery wires.
Example: four costly controllers consecutively cremated
Solution I: simply lengthen the motor wires instead
Solution II: add extra capacitors, rules of thumb


Calculation spreadsheet

Capacitor type and polarity/orientation!
How & where (not) to add extra capacitors
All capacitors as close to or on controller, do not distribute along batterywires.
DIY capacitor pack pictures
Capacitor & pack suppliers
Expert/manufacturer opinions & their rules of thumb


They all say the same ... noise_reduction_101, switching_power_supply_design_101.

Cause, explanation, water hammer/knock analogy& , theory


References

Measurements & scope traces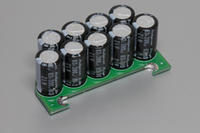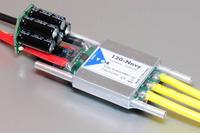 09-06-2021, 09:29 AM
Super Contributor
Join Date: Oct 2010
Location: Ex UK Brit now in Latvia west coast - Ventspils
Posts: 12,870
---
OK .. there's theory and there's practical ....

Linear BEC's will quite happily work together .. they don't care as the power supplied is a linear steady flow. I have many models with multiple Linear BEC's with red pins still connected. There is a possibility that having all connected - may give a failsafe factor if one BEC fails ..

Switch Mode BEC's as Ron says rely on pulsed / switched power supply and it is possible for one to affect the other causing one or both to 'malfunction' ..... strange thing is though - BY MISTAKE I have 3 models with SBEC multi set-ups and the red pins were left in ... with no ill effect at all ... each works perfectly.
Some people use a low loss diode or other divider to allow SBEC's to be used together - again possibly gaining a factor of failsafe if one fails.
09-06-2021, 11:45 PM
---
Flying_Fast74
The symptoms you describe are certainly what you would expect from the EDF load exceeding what the battery can deliver.
The simple test would be to disconnect one EDF. If one EDF works normally then try the other EDF individually. It they both work individually then you can be pretty certain either the battery or possibly the wiring/connector is not up to the combined load. A 3000 mAh fully charged 50C battery and in good condition should easily be able to run one EDF at full power for 8 minutes.
Do you have another 3s battery? Even a modest 1800 mAh 20c 3s should be able to run one of those EDFs perfectly well.
Just remember it can save a lot of frustration, particularly with a multi, if you test everything individually on the bench
before
you add the components to the airframe.
.
Thread
Thread Starter
Forum
Replies
Last Post
Currently Active Users Viewing This Thread: 1
(0 members and 1 guests)
Posting Rules
You may not post new threads
You may not post replies
You may not post attachments
You may not edit your posts
---
HTML code is Off
---