My New Multiplex FunCub - Initial setup
01-25-2012, 11:51 PM
Member
Join Date: Dec 2011
Location: Stationed with my family in Kaiserslautern, Germany
Posts: 46
My New Multiplex FunCub - Initial setup
---
This is my new Multiplex FunCub code named "BushBee." This was just a dry test to make sure that all the control surfaces are working correctly. I set up the system using an Aurora 9 and an Optima 7 Receiver. I have the Flaps set for 2 different control switches, one switch is set to give a 70% and 50% throw and the slider switch is set to give a 50% and 100% throw. I set this up on 2 different switches to give me the chance to decide in flight which one I like more and decide which one I want to stick with.

The power system is...

1 x Motor Torcster Gold A3548/5-900 156g
1 x ESC E-Flite 40A
4 x Servo Torcster NR62 8g
2 x MiniServo Torcster 16g / HS81
1 x Aluminum Motormount
1 x Graupner Prop Sonic 13,0" x 6,0"

I'll make sure to throw up a short video of the maiden flight once we get her out to the Sembach, Germany our Flying Area not far from Ramstein AirForce Base. If anyone is a flyer in the neighborhood give us a holler.


---
Last edited by Timewarp; 02-06-2012 at

01:34 PM

.
02-02-2012, 08:28 PM
Member
Join Date: Dec 2011
Location: Stationed with my family in Kaiserslautern, Germany
Posts: 46
---
02-06-2012, 01:37 PM
Member
Join Date: Dec 2011
Location: Stationed with my family in Kaiserslautern, Germany
Posts: 46
Maiden Flight Report!
---
Maiden Flight Report,
I just wanted to drop everyone a note to tell you how the maiden flight went on the Fun Cub! Sorry no pictures all my buddies said I was nuts for venturing out in this cold, so I didn't have a camera man this time out but I had the itch and just couldn't help myself, I had to fly!
The flight conditions were not ideal since it was -8 C with 10 mph winds, but I have to say the FunCub did great. I took off in the grass like you and everyone else on the net has recommended and she had plenty of power and needed very little room to get into the air. I did learn that in the higher wind I shouldn't use the flaps though (partly because I am still new to flaps), when I engaged them due to the wind she would start to tip. On my third battery I tried to use the flaps on the landing and she nosed over and I bent the prop adapter, luckily though the motor shaft is still okay and the fact that my FunCub has the metal motor mount really paid off on this crash. I should have known it would do that with the flaps..... on the first 2 batteries I ran into similar issues with the wind I was battling and on this occasion I caught a side wind gust right at the time of deploying the flaps on landing, no big deal though she is still in one piece, a pretty durable plane to say the least. I replaced the prop adapter when I got home and might decide take her out again tomorrow.
I was really impressed by her flight in the wind, I stuck the battery a bit back into the fuselage as recommended in the 2bfly.com review to get the right CG and once airborne she needed very little trimming to get her to fly strait. I am using a bit stronger prop as well the 13x6 and she seemed to handle it without any problems.The coolest part of the FunCub are those huge tires, in the past I have been a little skeptical about landing in the grass with some of my planes that had landing gear, however with the Fun Cub I have no fear of bringing her in for a landing in the grass compared to some of my other high-wings I have, she loves it, defiantly a bush plane. The Aurora 9 transmitter worked great with the Fun Cub all in all I am very, very happy with the purchase.
**** 5 Stars!
02-06-2012, 02:28 PM
---
Congratulations on your success!

My FC is apart on the work bench awaiting assembly (and guts from HeadsUp). I have painted all the parts sun yellow too, so it's going to resemble yours. I was surprised how little paint is required to change the colour.

Cheers...
11-05-2013, 09:33 PM
Twotter Pilot
Join Date: Nov 2013
Location: Northglenn, CO
Posts: 10
---
I have re-enforced the main gear but finding that the tail wheel is now the weak link for off field rough landings. Any suggestions for mods?
---
Last edited by Dynoman024; 11-05-2013 at

09:36 PM

. Reason: added pic
11-06-2013, 12:21 PM
Member
Join Date: Dec 2011
Location: Stationed with my family in Kaiserslautern, Germany
Posts: 46
Multiplex Fun Cub Tail Wheel Fix
---
Yea I understand your pain regarding the tail wheel. I found a fix though that has worked for over a year with no problems. I cutout 2 small triangles from 1/16 plywood. In one of the pieces I Dremeled a small canal for the tail-wheel wire and then I epoxied both triangles together with the wire in the middle and at the same time expoxied the entire attachment to the fuse. Below is a picture that has worked great for me for a long time now.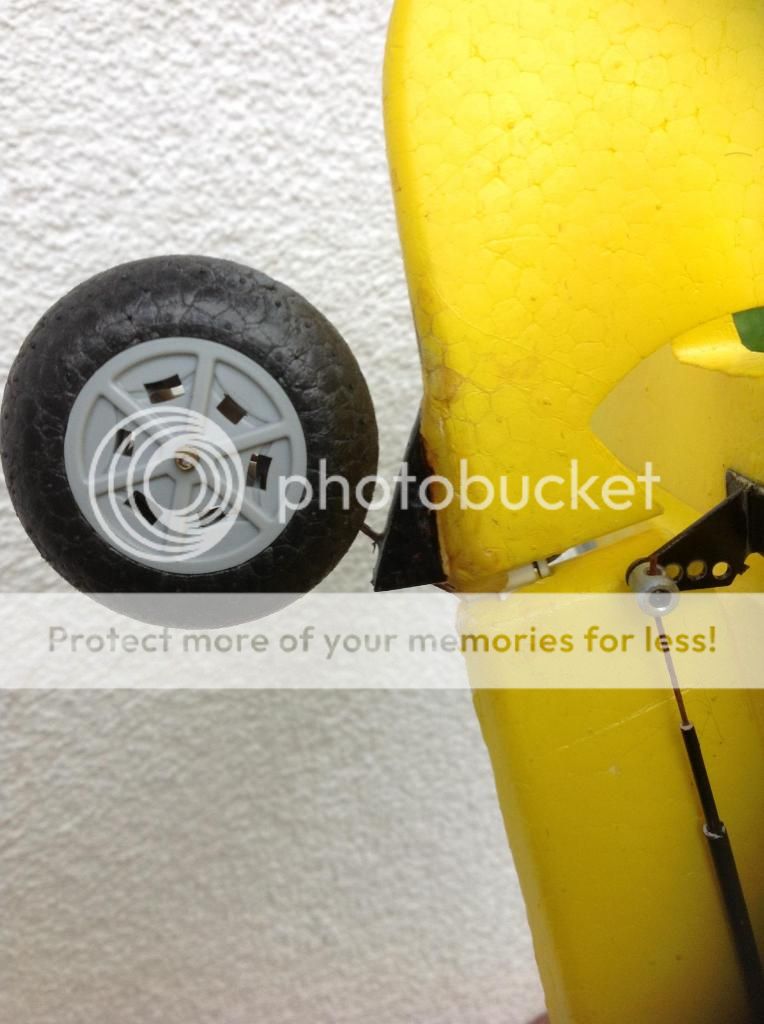 11-28-2013, 07:16 AM
New Member
Join Date: Mar 2012
Posts: 13
---
Because I use a paved runway, I replaced the big tires with Dave Brown ultra light. They are light and soft, so they absorb shock well.

I find the landing gear way too bouncy and weak. After trying several reinforcement designs, I replaced the landing gear with a thicker gauge of piano wire (available at the LHS), bent into the exact same shape of the original landing gear. Works great.
Currently Active Users Viewing This Thread: 1
(0 members and 1 guests)
Posting Rules
You may not post new threads
You may not post replies
You may not post attachments
You may not edit your posts
---
HTML code is Off
---