Composite Warbird Build 1/7th P-40E Warhawk
02-18-2014, 10:48 PM
---
Year Six I think ??
Clear packing tape is not very good in compression but applied around the periphery like this it works very well in shear.
There are no internals here. By taping this up for a quick touchy-feely session, it should be quickly apparent that little internal structure is required at this scale. The inherent beam strength of the cast trailing edges coupled with the rigidity cast into the lower skin by including the wheel and flap bay details yields an empty shell that is almost strong enough without internals. Very promising, not to mention motivating and satisfying to stare at...
[a href="http://s1069.photobucket.com/user/Two_Bulldog/media/P82000012_zpsfc4ad5fa.jpg.html"][img src="http://i1069.photobucket.com/albums/u475/Two_Bulldog/P82000012_zpsfc4ad5fa.jpg" style="max-width:100%;"][/a]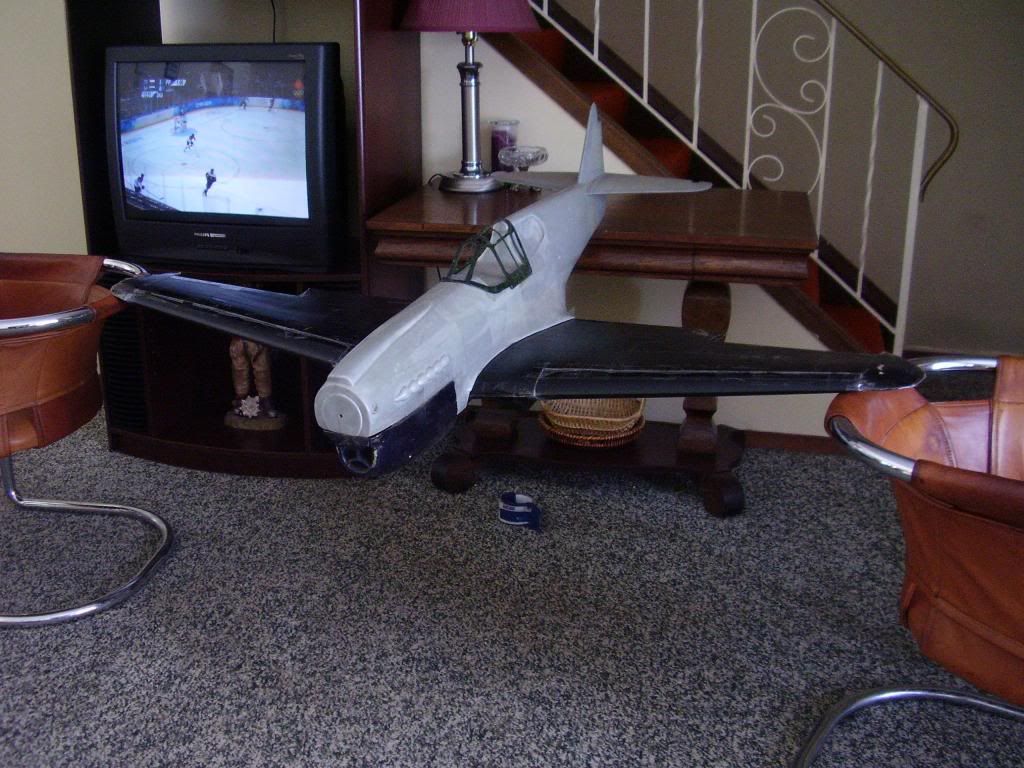 03-05-2014, 08:35 PM
---
I couldn't find my old homemade hotwire cutter. (an old battery charger, a block of wood, two copper pipes, and a guitar string worked just fine for many moons...)
This is a small investment that will save many, many, hours of cutting balsa ribs, or paying for the laser cutting etc...
I have to say, it's a beautiful little tool that I should've bought 30 years ago.
The wires it uses can be bent to shape. A small Vee profile around the perimeter of a rib might do well to hold the cabosil/milled fibre goo in place during assembly.
What you see in the photos is the aluminum cutting template in white and the foam rib in blue.
I first printed paper templates to scale and later transfered the paper template to the aluminum shown here.
Here's a tip - check your yellow pages for custom eavestrough - they buy aluminum sheet stock by the roll...
Proxxon Tools, Hotwire Cutter Thermocut 12/E (12v DC)
Voltage
12v, 60w, 50/60Hz
Cutting Wire Temperature
300 - 660 ºF
(150 - 350 ºC)
Maximum Extension
7.9" (200mm)
Cutting Height
5-3/4" (150mm)
Wire (NiCr8020)
11.4" Long, 20 gauge
Weight
0 lbs (3.0kg)
Thread
Thread Starter
Forum
Replies
Last Post
Currently Active Users Viewing This Thread: 1
(0 members and 1 guests)
Posting Rules
You may not post new threads
You may not post replies
You may not post attachments
You may not edit your posts
---
HTML code is Off
---