Fun Cub Gear Improvements
02-12-2013, 01:53 PM
---
02-12-2013, 04:10 PM
---
Iam just now putting my funcub together and then painting it but i have a few thoughts about how to build a better set of landing gear. I have pick up a few sets of small cub landing gear at airplane swap meets plus i have my own wire bender and might give building a set myself a try if the other parts i have picked up dont work out. I will try and post some pictures of what i come up with very soon.
joe
10-10-2016, 04:21 PM
---
I'm always amazed at the weighty and complex systems people seem to need for this aircraft. If one has reasonable landing skills and hasn't packed on weight so as to up the landing loads, simple solutions work just fine. They just don't look as slick.
---
Last edited by maxflyer; 10-10-2016 at

08:45 PM

.
10-12-2016, 03:42 PM
New Member
Join Date: May 2016
Posts: 18
Nietzsche on silly over-modding of RC planes
---
It's not a question of need, it's a question of whether or not you have a certain itch. Itches transcend rationality sometimes. And what is a literal itch anyway, some of them are imaginary.
Formication
, the frightening sensation of bugs crawling under your skin that to the afflicted seems very real, while the bugs don't exist, the psychotic delusion nonetheless does.
We don't
need
to go to the local park to fly a miniature airplane carefully designed to look like a real plane five times its size, but we have that itch. And a subset of us itchy people, not you obviously, have an itch to jump the gun hotrodding their plane and getting a 22V 950 watt power setup and a pile of $35 Xoar props worth more than the plane and heavy wheels and $60 gear and a off-the-menu tail wheel setup for their Funcub before even flying the plane a single time, or even having received it in the mail in my case.
Now I concede that's not rational on my part, but Friedrich Nietzsche, famous RC enthusiast and philosopher, when defending his having modified his Apprentice S 15e for VTOL with a quadcopter hybrid rig, put it best when he retorted, "The irrationality of a thing is no argument against its existence, rather a condition of it."
Then, way on the other side, there are the risk-averse keep-it-super-simple types who, when I show up at my club psyched to fly, insist I rip out all my telemetry because of "unnecessary points of failure," as if my overpriced GPS sensor, the data of which I like to put into Google Earth, poses an excessive risk. C'mon.
Tl;dr, different strokes for different folks.
Doug
10-12-2016, 04:25 PM
---
My hat is off to you sir. You have sucked the discussion into the realm of art. And I agree - each to his own. As a professional artist I rarely encounter a conscious "art-bent" in the hobby of model flying (unless we include the ancient rubber-powered free-flight adherents - myself included), and my own area of interest here is in, essentially, providing a stage for my fascination with most things involving manned flight and the human inventions surrounding such.

It also extends my still-active 1:1 piloting experience/challenge in my own scratch-built Experimental which required efforts that consumed a third of my life to reach flying status.

For me this is a stage for zen-like moments which allow me to forget it's only a model whizzing by before me, and a venue that extends the skill-challenges of 1:1 flight into a scaled down and much more repeatable and affordable form.

As to the current subject, It is generally my impression that many model flyers feel certain aircraft require modifications to improve/enhance performance, while forgetting that the flight experience itself (assuming that's your foremost interest) is most often diminished, or certainly altered, with every added gram. I am not including here, those who are after an aesthetic alteration or are on an experimental quest.
10-14-2016, 09:00 PM
New Member
Join Date: May 2016
Posts: 18
---
Thanks! My second post on a potentially-higher-caliber forum, figured I'd make a peculiar first impression here.
I am but a beginner. The type who gets way ahead of himself, surely you know that type, a type of beginner you could do without. Though this Funcub is ridiculously overpowered (750 watts?!), I am close to being on the same page as you actually. In that general vein I am for the first time going to go fly solo without any gyro training wheels. On simulators, dating back to 1989 with Microsoft's Flight Simulator 4, I crank up all the difficulty, instability, dynamic weather and failure knobs.
Next to that plane lies my Carbon-Z Cub (giant scale, woah) that I have not yet maidened due to club elder complaints of my slipshod soldering, since improved after one member was kind enough to give me lessons (quite lucky to be in this club). No mods except for a forum-recommended ESC upgrade for receiver headroom brownout safety. That man even tore out all my telemetry stuff. I do suspect I will enjoy flying it unmodified, knowing that it's as similar as possible to this actual plane.
I wish to have at least one plane on hand that is scale and not tainted aesthetically or in its performance because I believe I will enjoy flying it more if I know it's behaving as similarly as possible to the actual Cub, even if I'm not able to punch a hole in the sky while towing two sailplanes vertically. I would be preparing to fly that instead, except crashing the Funcub will be far less devastating, and I'll enjoy a smile when showing off its two or three to one thrust ratio, switching from one plane to the other.
I ditched drones and subsequently helis because I was drawn to the romance, if you will, of fixed-wing RC aviation. Whereas this 3D stuff is not, maybe looking out for birds to ride those thermals in a sailplane is my true calling. So I got one of those too -- my wife and kid were out of town and I kind of went on a spending spree in retaliation for abandonment. Got another Timber too...
So I have a lot of maturing to do in this hobby and as I do that I will enjoy it more, and that's been the trajectory since I gave up drones. You found your groove long ago. This is not, despite what I wrote, a different strokes/different folks thing when the other guy is still using SAFE mode. But that's about to change, I'm gunning for you.
Oh wow I wish I bad enough financial judgment to buy
this
now. Meanwhile, I suppose I'll go learn how to fly without SAFE mode. But in the cockpit of a virtual Cessna on Meigs Field in MSFS v4.0 will always be my true home. Runcam2 ready, off I go, should be interesting!
Doug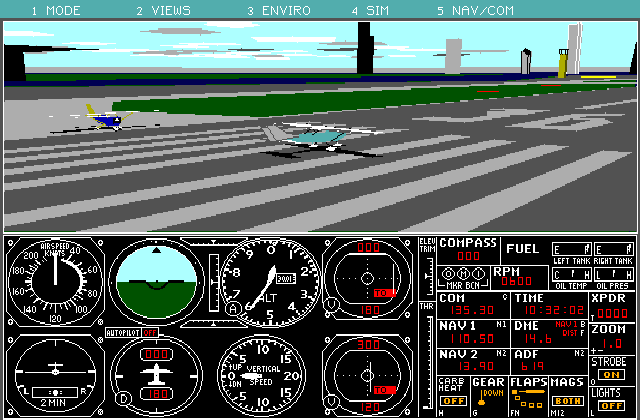 10-14-2016, 09:50 PM
---
I am too vision challenged now to enjoy chasing thermals. If a plane gets 150 yds away I can't tell the bottom from the top. I do spend some time on other forums however, uselessly trying to promote the concept of reducing the weight of ARFs, rather than adding more power, to be able to enjoy more scale-like flying speeds and to experience the challenge of energy management and "flying the wing." Few are convinced.

As a flight simulator user going back to the wire-frame days of Microprose, I would encourage you to try one of the modern RC simulators. The realism they provide is far greater (because seat-of-the-pants feedback is not involved) than any modern In-the-cockpit sim I have flown, including ones like X-Plane. The RC sims replicate actual RC flying amazingly well. The 1:1 sims are still very useful for practicing procedures in a particular airplane.
10-15-2016, 07:29 PM
New Member
Join Date: May 2016
Posts: 18
---
My friend that stings me to learn of your declining vision. In the classifieds on rcgroups someone was doing a garage everything-must-go sale, the reason being that his diabetes had damaged his vision to the point that he could not fly at all and had to abandon the hobby. I hope your eyes have a good clip of time ahead of you before you reach that point (if ever). Though if you lose more vision and want to continue to enjoy your energy management, there's always
free flight
...
Oh I've got FSX, addon packs and X-Plane, plus a decent joystick with a throttle and twisting for rudder and enough buttons to do the common things, though not
these pedals
. The only video game-ish addiction I've never shaken, flight simulators. I've also got four 24" screens to get a good cockpit feel for the 1:1 and a more convincing sense that I'm outdoors when flying the RC sim:
The RC simulator (and while not the most expensive or popular, Clearview is highly-regarded) was a great investment as I was getting into the hobby, definitely saved me plenty of crashes, especially when I was in my CP heli phase. One day I discovered I could get a cable to plug my actual transmitter into my machine instead of using an acceptable but dinky and different controller. I've got my DX9 customized a bit (in addition to all my rates, mixes and such) in manners that are key to have the same at your computer as you've got outdoors, such as different, flat, fat thumb gimbals and greatly tightened spring resistance on the sticks to deter overcompensation. Huge help. With this modified Funcub, the motor I've got is about twice heavy as the stock motor and when I put in a four cell it will be further nose-heavy or if I use a light battery and the velcro gets loose the CG may fall sternwardly. Though I'll try to compensate, starting with my camera mounted way back, and led weights on hand, in the simulator I've tweaked the CG to prepare myself not to get spooked when I'm either tail or nose heavy when actually flying.
Yesterday I was, after posting that, heading out to a local park but suddenly remembered it was Friday and had to turn around to relieve the nanny of her duties. But late last night I did some extreme backyard taxiing, and the street was empty, so I'm taxiing a little on the road for some elbow room, one thing led to another and next thing I know I'm airborne! Two ultra brief flights, two perfect landings then got the heck back inside. Kicking myself for not having the camera rolling. Not exactly an AMA-sanctioned flying site nor a great way to improve the general reputation of the hobby to the public -- I'll go to the park today instead and behave myself tonight. Barely had to push the throttle. Once I get the feel for no gyro training wheels on an acrobatic plane which I'll fly with steadily increasing rates/throws, that will improve the odds of the maidening of the CzCub being uneventful.
Maybe it's just you, but I'm getting the impression that wattflyer may be a great secret refuge for me from rcgroups. Time to hit the field!
Doug
edit: My one-year-old
getting the hang
of 3D yak flight.
10-15-2016, 11:11 PM
---
Thank you. The diminution of my vision is strictly age-related. I am probably more fit than 95% of men my age, but that is of little help if you have "dime-store Genes." Things fail and there is nothing to be done. Even if things CAN be fixed or aided, good luck finding a medical practitioner these days who is up to the job. Especially with eye surgery!

My mortality is surely tailing me now but I haven't exactly given up. I still fly my last Experimental Home-built (see image), my second, which took a third of my life to scratch-build from plans (It's actually very much like a giant RC model). It was VERY Experimental which is why it took so long!

Sometimes, when I am about to maiden a new and beautiful model I find my hands shaking with fear. I try to remember what it's like to be a 1:1 test pilot - when you're NOT a test pilot, of something you built in the garage - what it's like to take off in a completely unproven aircraft. Especially if it is one-off and has only one seat, and there was no way to practice flying one before you strapped yourself in. Amazingly, my hands are usually still shaking! Can a model be THAT important?

I have cleverly planned to be ready to supplant the 1:1 flying with the RC stuff when I must step down, which is why I prefer scale-like airplanes and operations. The proper RC bird can mimic 1:1 stick & rudder operations quite accurately. Actually, with very little depth perception it can be harder to fly models than it is to fly my Home-built. More than once have I clipped the 7' fence around my soccer field on an approach!

Your sim setup is very impressive, and solves one of my biggest issues with computer sims - not being able to turn one's head to, say, judge when to make a turn to final. I know there are methods, but implementing them can be quite expensive and bothersome.
10-16-2016, 01:36 AM
New Member
Join Date: May 2016
Posts: 18
---
Wow, I would love to have built a plane from scratch like that and then manage to get it in the air. A satisfying moment I imagine, the first time you did that.

Well, I just made progress in my journey into the depths of this hobby, a major milestone of the combination of the following: My first solo flight with no buddy boxing or experienced club member standing next to me ready to grab the remote (also no telemetry, just a no-frills beat-up plane), and, tada, NO gyro training wheels (no bank limit, no stabilization, nada).

And I had a great flight (debatably)! Got some altitude, took her over the water, made some gentle turns, then got increasingly cocky, rolled and flipped on high rates, hotdogging for the small crowd, consecutive loops, but feeling confidently in control, and having much more fun. Amazing.

To the delight of festive onlookers, during a high speed tight loop, centrifugal force got the better of me, the velcro on the battery tearing loose. I lost all power two thirds toward the exit of a loop, leading to an unplanned encounter with the ground. The worst part is that the camera loses footage if there's a power interruption, and I was powering it from the receiver. She'll need a lot of glue and maybe a few rods if I don't just write this off altogether as a great day with my next Timber en route, declaring today as my graduation to the Timber sans SAFE mode. Had I not added the supercharged motor, I might have had a longer flight.

So, especially if you count those two landings from my street flying last night, I am a lot more competent and comfortable flying without assistance, and confident; and because it was so much more fun, I will accelerate toward this general direction so that I can always clear your 7ft fence with my own scratch-built bird one day well before my eyes begin to fail me. Next Sunday I'm hoping to have a smooth maiden of the big, scale Cub finally.
10-16-2016, 05:31 AM
---
This Timber incident is proof there's a serious RC flyer in there somewhere. Crashing is a prerequisite for becoming a member. Crashing is perhaps the most effective way of learning lessons and finding out where that line between managed risk and foolhardiness lies.

Hobbyists who can work with their hands have the biggest advantage. They can repair planes that look totaled, and fly them again. Sometimes, repeatedly. I am currently rebuilding a beloved Eflight J3 450, which can no longer be replaced, for the fourth time! The last three times involved complete destruction of the forward fuselage and the bottom, back past the landing gear mount area. This means adding structure where it no longer exists. This last time involved kissing the fence on approach, as mentioned previously!

The sequence goes something like this:
First you stare in disbelief and horror that this actually happened, and you wish you could turn back the clock. Then you look for a reason why the stupid plane failed. For a brief moment you wonder if it could have been the stupid pilot. Naw! Unless you were taking video (and even if you were), you begin trying to reassemble the entire event in your mind so you can figure out what went wrong.

You write off the plane as you carry the pieces back to your car. At home, as you survey the wreckage, you begin to think about the work and cost of buying another one and in disgust you decide it's a stupid hobby and this will be the end of if. And then you start to wonder if it would actually be possible to resurrect your former pride and joy. As you begin to tinker and glue pieces, you realize restoration might actually be possible. You actually get into the challenge of it.

By the time it becomes recognizable again, and hopefully flyable, you realize the whole rotten picture is not as dire as you first thought - and that you actually learned something in the process - and maybe this is how the whole shebang works. Nothing you build is permanent. The learning never stops. The real value in all this is taking away a good lesson from each adventure. You even realize, after viewing your video, that it wasn't the stupid receiver that failed, it was the stupid pilot who shouldn't have let the plane slow down so much in that last turn.

And so it goes.
Thread
Thread Starter
Forum
Replies
Last Post
General Electric Discussions
Currently Active Users Viewing This Thread: 1
(0 members and 1 guests)
Posting Rules
You may not post new threads
You may not post replies
You may not post attachments
You may not edit your posts
---
HTML code is Off
---