Replace 90A/hr Lead Acid starter battery ?
12-19-2019, 12:52 PM
Super Contributor
Join Date: Oct 2010
Location: Ex UK Brit now in Latvia west coast - Ventspils
Posts: 12,555
Replace 90A/hr Lead Acid starter battery ?
---
This is non RC of course but I'm hoping someone like Denny can help with this.

My yacht has two 90A/Hr Lead Acid starter batterys that I can use separate or together to provide the 12V power for starting a 43HP Diesel engine and domestic systems.

I'm thinking to replace with LiFe ..... reccomended sizes please - brands can be mentioned, but as I am not in USA or UK ... I am limited and would need to use the data of the battery capability rather than brand name to find here.

They must be able to be charged from the engine alternator .... on board Lead Acid charger etc.
01-02-2020, 04:55 PM
Super Contributor
Join Date: Jun 2013
Posts: 1,228
---
First as long as you use 4S LFP (LiFeP04), is completely compatible with Pb chargers and utilization equipment. LFP can be charged anywhere from 13.8 to 14.4 volts. One bit of advice Nigel is never ever fully charge any Lithium battery as that only shortens cycle life. Lithium does not require ever being fully charged like Pb. They work best in a Partial State of Charge. !3.8 to 14.2 is more than enough.

I build racing golf carts and use a lot of lithium batteries. Use to use a lot of Ch-Com LFP batteries like CALB or Synopoly not so much anymore because of they just do not last long and do not have the punch, or very high discharge rates of say a Nissan Leaf batteries most DIY EV builders like to use today. As for size it sounds like you have 180 AH today right with Pb? Equivalent size from Pb to LFP really depends on Discharge Rates and how deeply you need to discharge. Assuming just starting, lighting, and ignition you can easily get away with just 100 AH with 10C burst gives you 1000 MCA and sufficient capacity for some engine down time and running on battery. If on the other hand you turn off the motor and want to operate a day or two without the engine running, you will need to be at least 80% of the original Pb battery. So if you have 180 AH now will require 145 AH.

Since you are not in the USA or UK, finding quality LFP prismatic cells is going to be a challenge and you may have to buy Chi-Com POS LFP cells. Of the brands in China, CALB is the best junk they country sells (Chinese Aviation). In prismatic form factor you can get 40 to 200 AH cells. Just DO NOT USE any battery made from 18650 cells.. To get say a 100 AH battery in 18650 cells requires 200 cells to make a 4S25P battery. With Prismatic or coffee bag cells all it takes is 4 cells in series.

But Nigel remember this. A good Pb battery like those made by Rolls and Trojan are not only a lot less expensive, but will outlast any lithium. Rolls and Trojan offer models with 7 and 10 year warranties. Most you can get with Lithium is 1 year from China which you cannot file a claim for.

Good luck.

Your friend in the USA

Dereck
01-08-2020, 10:24 AM
---
Hi Nigel
I was looking at those Lithium and LifePO Golf cart batteries and a 100Ah battery is $ 900.00 each, OUCH
https://battlebornbatteries.com/shop...cycle-battery/
https://deepcyclebatterystore.com/ba...-cart-battery/
If Your Batteries are getting weak, they can be reclaimed to like new condition, lead acid Batteries get sulfenated and get weak, a Desulfinator will make a lead acid battery last up to 10 years or more, but dont buy any desulfanator, I tried different desulfanators untill I found one that works over night practically, I have a 500 amp carbon Pile battery Load tester, I had a weak lead acid Car Battery that was only delivering 120 amps load tested @ 9.6V when it should be at 400amps on a load test, I bought a 4 amp multi voltage desulfinator on EBay and with a older 6 amp Battery charger, rejuvenated that old battery to like new and it now load test at 400 amps, the desulfinator must be used with the battery charger
here is the EBay ad if your interested, Chellie
https://www.ebay.com/itm/New-400Ah-A...UAAOSwDxFZ4YJd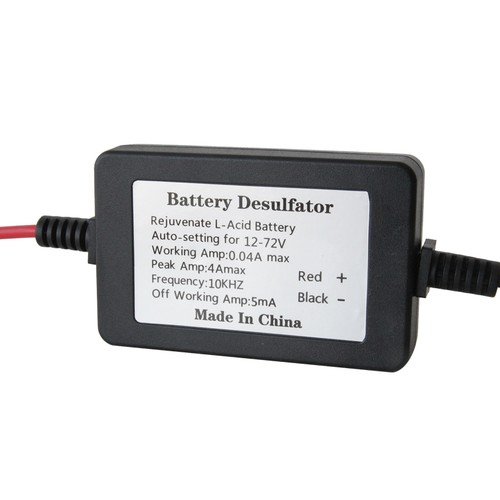 ---
Last edited by CHELLIE; 01-08-2020 at

06:15 PM

.
01-08-2020, 04:04 PM
Super Contributor
Join Date: Oct 2010
Location: Ex UK Brit now in Latvia west coast - Ventspils
Posts: 12,555
---
I've shelved the LiFe idea ... expensive and risk of destroying battery by over charging. Lead Acid so much easier !!

Pulse Desulfators .......... seems to be a lot of controversy over these - with many reports that reason some work is because of the very low amp rates - not the pulsing.

Once I get paid ... haven't been paid for over 4 months, (Middle East Banks are completely ruined....) ... for small money - worth a try ... I have a few old batterys that I can test on.
01-08-2020, 06:12 PM
---
Hi Nigel
about 85% of Lead acid batteries can be brought back to life. I have several Battery desulfernators, and the one I listed Works The Best, I have others but they take a long time to work. the 4 amp one I listed works like a commercial unit and almost overnight , I use it with a old 6 amp battery charger, it cost about $17.00 USA dollars. I Hope you get paid soon too.
Thread
Thread Starter
Forum
Replies
Last Post
Hi-Performance and Sailplanes
General Electric Discussions
Currently Active Users Viewing This Thread: 2
(0 members and 2 guests)
Posting Rules
You may not post new threads
You may not post replies
You may not post attachments
You may not edit your posts
---
HTML code is Off
---