Lost a great friend during the night.
05-21-2017, 02:32 PM
Super Contributor
Join Date: Oct 2010
Location: Ex UK Brit now in Latvia west coast - Ventspils
Posts: 12,441
Lost a great friend during the night.
---
Back in February 2004 - I bought the house and grounds we have now. Owner had to move a tenant out to other accommodation. The tenant had a young 2yr old mixed blood small Alsation dog which they could not take with them.
The dog was adopted by us and she became one the most generous golden hearted I have ever known.
She loved everyone, she 'mothered' the young pups we introduced even though they were not hers.
She had one habit that we could not break though ... previous owners kept her on a chain in the garden with a Kennel to be out of weather. In the late afternoons - they used to let her free and she would go off obviously meeting up with other dogs !!
We scrapped the chain, brought her into the house and cleaned her up ... but she would disappear when let out into garden for her usual romp !! She did that even to the last days. I can see her now ... walking back to the house KNOWING she was wrong but a look of - You love me anyway !
At about midnight 20 - 21 May, this last night .. it was obvious she was in trouble. She had been ill for some time but medicine and Vet visits kept her comfortable and happy. But now she just lay there with sad look.
We carried her out to the car as Vet said we would need to go to him.
On examination he diagnosed failing kidneys, possibly ruptured ulcers in stomach and she was in pain. The awful decision had to be made and at 0200 hrs this morning he administered the final injection.
Dora our loved friend passed away in our arms peacefully.
She came home with us and was laid in a spare room till the day. We have an area in a corner of the garden, where we lay our departed pets, but Dora was special and so much a part of the house, we decided to bury her close to the house behind a small hedge she used to sit by and watch us when in garden in her last year. She is now just under our window close by.
I have grown up with dogs all my life, but Dora was nothing like I had ever seen before. In first years - my wife had a blind Poodle. Dora would walk by her, guide her from knocking into things. Later when we got Ben - she took it on herself without us asking - to mother and even house-train him ! We literally had no job to do !
Dora was quiet, sweet and gentle. Everyone who met her - she melted their hearts.
My wife and I are devastated by her loss.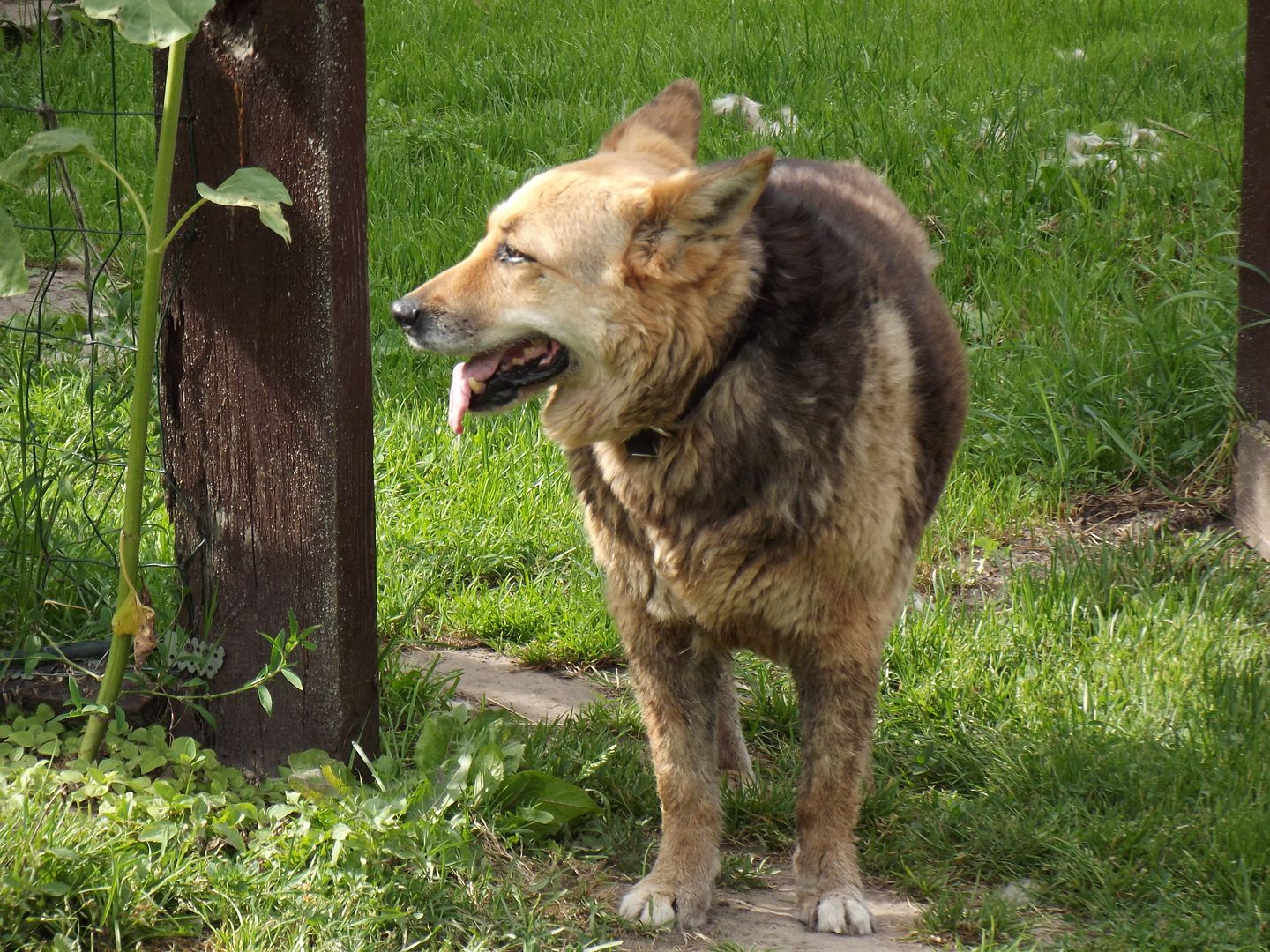 Here she is 'mother' to Ben ...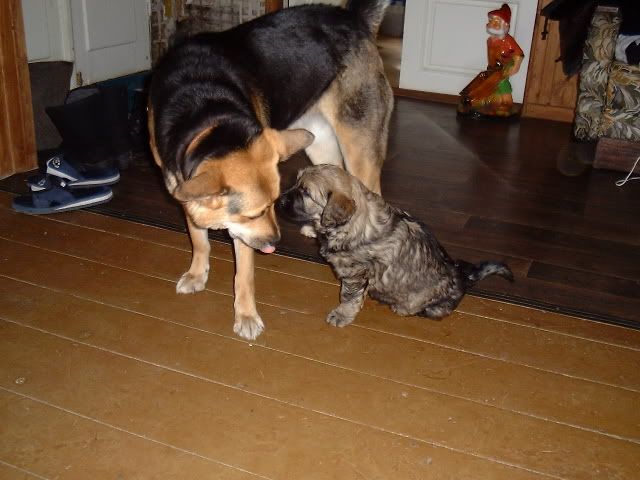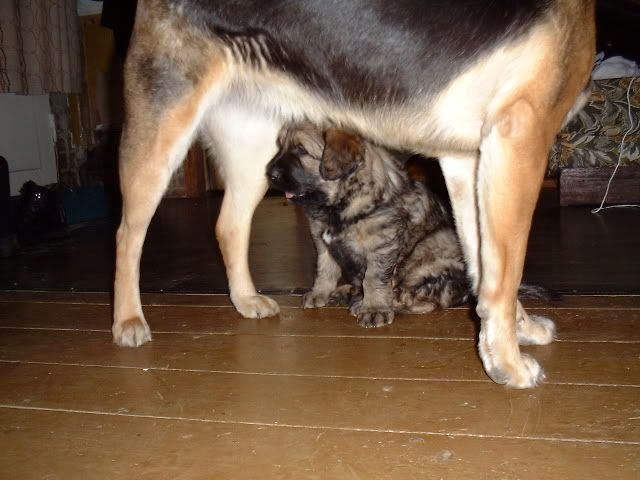 Ben grew up and actually Dora later could literally walk under HIM !!
Here's Ben a year or so later ! With Dora behind ... just in shot...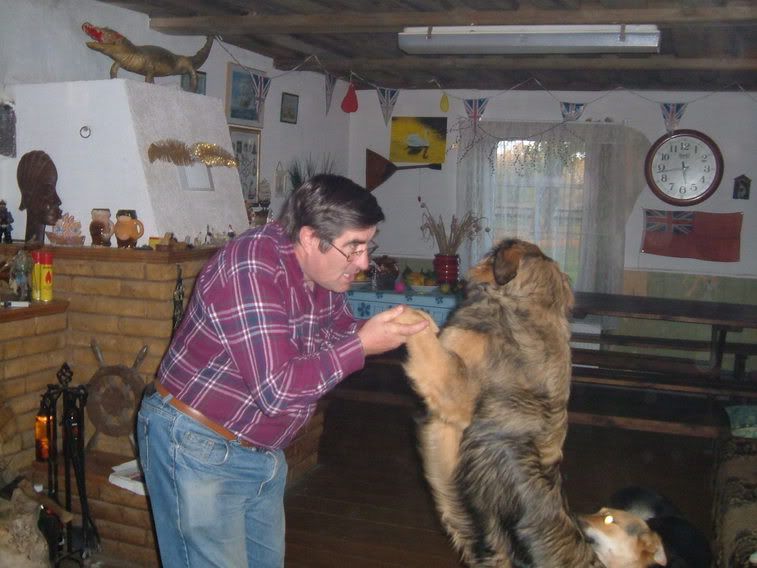 Nigel
05-21-2017, 02:44 PM
---
Im sorry for your loss.
I just lost my dog Laci last month to a brain tumor. She was barely 7 years old. She is well missed. INMHO Dogs choose their masters. They know want we need and when they have accomplished their mission their spirit moves on to another dog and onto another mission. Dora job well done
05-21-2017, 04:49 PM
---
So sorry for you and your family, Nigel. This is the hardest decision that most people ever need to make. Dora was lucky to have a caring family that could act on what was best. One day, when it is time for you to meet your maker, Dora will be waiting there for you, healthy happy and comfortable. She will rush to meet you when she recognizes you and you will cross the bridge together.
05-21-2017, 07:03 PM
---
Sorry to hear that but you had no choice by the sounds of it. I'm a dog lover myself so I know how dogs become part of the family. By coincidence I just added a third dog to my 'pack' yesterday.
05-21-2017, 07:38 PM
---
So sorry to hear of this Nigel. First pup i ever put down was Beau. A golden retriever who was so well trained by my wife, but truly all our dogs become mine by alfa order. I cried so hard making the appointment for beaus final day. I had to hang up and call back once under control.
My wife and I always have several dogs at any time....love them all so much and each one is so different. I LOVE DOGS!!!!
Again my friend,So very sorry for your loss of a best friend.
05-22-2017, 11:52 PM
---
Sorry to hear that Nigel. It is not something you get over either. We lost our Maremma 8 months ago and just lost another beautiful soul a week ago. Like yours, he was a very special dog, polite, conscientious, extremely faithful and loving and welcomed all our visitors warmly. He suffered fluid around the heart and had two drainage operations but the damage was done and thankfully in the end it was quick but left us totally devastated. We still have our little Pug otherwise we would be completely lost.
Here is Reno with my wife just recently.
https://youtu.be/ylpzqhu5nSI
05-23-2017, 06:42 AM
---
So sorry Nigel,
They are family members and it's almost equally as painful to lose one. The memories.

I have three rescue dogs and the oldest , Maddy is in decline. The newest find is Miss Piggy. She's part pit bull part pug. I think the Brits call them Staffy's. The sweetest little dog. Loves everyone. What we don't do for them. She tore her ACL a few weeks ago. Didn't realize that dog ACL surgery is as expensive as human. $4,000. When we first got her she had heartworm. That treatment costs $800. Didn't even think about it. Then there's Dallie. I call her Dali lama. Part border collie part papillon. Always herding.

Such a sad day when you have to put them down. When our Westie passed a few years back, we saved the ashes.

I think many of my fondest memories are my dogs.

Feel for ya.
Thread
Thread Starter
Forum
Replies
Last Post
Indoor & Micro Electric Planes
Indoor & Micro Electric Planes
Currently Active Users Viewing This Thread: 1
(0 members and 1 guests)
Posting Rules
You may not post new threads
You may not post replies
You may not post attachments
You may not edit your posts
---
HTML code is Off
---