Hobby Lobby Bellanca Decathalon Or Hobby Zone Super Cub
04-06-2008, 02:09 AM
Member
Join Date: Aug 2007
Posts: 104
Hobby Lobby Bellanca Decathalon Or Hobby Zone Super Cub
---
I would like to know which plane is tougher, more sturdy, and easier to fly.
The Hobby Lobby Bellanca Decathalon (
http://www.hobby-lobby.com/bellanca.htm
) Or Hobby Zone Super Cub. I like the SUper Cub because I've read many good things about it, I like the Decathalon because of the price and the optional airleron conversion.(comes with 4 Channel transmitter)I have the Realflight G3.5 simulator and a Firebird Freedom. I'm buying a second plane because I finally heard how bad the FbF really is and currently in repair, I was told not to spend any money on it. So I'm buying a new plane.
Matt
04-06-2008, 04:42 AM
---
Well I think either one of those two would be fine, but if you want a much better looking and flying foam Decathalon I'd point ya to this one,:\
http://www.hobbycity.com/hobbycity/s...idProduct=5795
I have this one, and it flies just fine on it's stock motor and in scale.
I've upgraded mine with an E-flight park 400 and is a real sweet aerobatic performer now. Not that it wouldnt on the stock brushed direct drive, it would........you just had to coax it alot.
But thats a good thing, it keeps you on your toes and teaches ya to fly right or else. Then you really learn the planes habits and quirks this way, and then later on up the powerplant and wooopie.
But yes, as is proper you have to fly it on it's wing 100%
But as I said, it's now an animal up there with it's new BL motor.
It comes with a full house of controls, servos installed and you supply your own reciever(PnP). Cant beat the price either.
Here's mine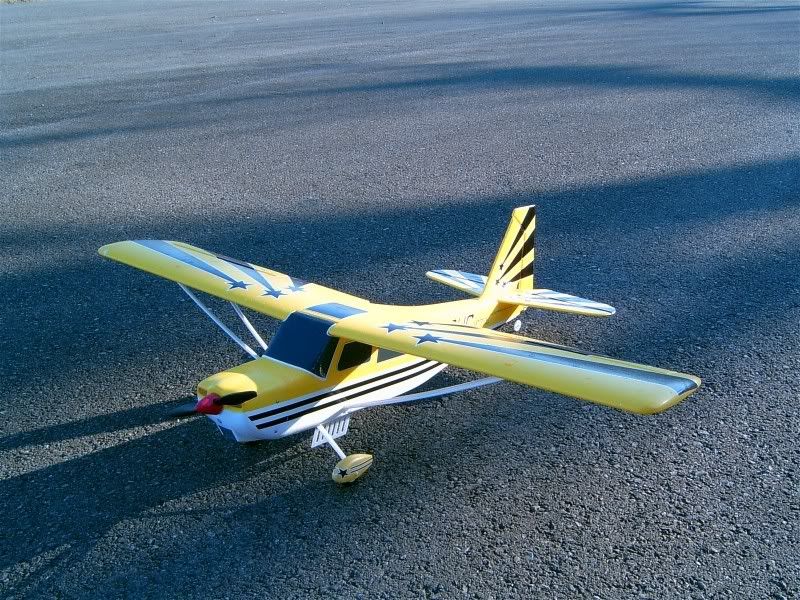 04-06-2008, 01:41 PM
Member
Join Date: Mar 2008
Location: north west ga. mts.
Posts: 94
---
Good day saberhawk, I am some what a huge fan of my super cub, this little plane has taught me so much,I have on one hear in the nortwest georgia mts. to help!! But to make a long story short I am so glad I went with s/c . Lots of craches and all reparable so far. Much luck from the zook
04-10-2008, 04:30 PM
New Member
Join Date: Apr 2008
Posts: 14
---
My own personal experience as a newbie was after becoming proficient on the hobby shop simulator I bought the Super Cub. I've put up several sessions with it and have been impressed how it flys. Also impressed by how everything fit together and where the center of gravity placed. Just adjusted the control surfaces to the servos and was good to go.

Chris Padham
Thread
Thread Starter
Forum
Replies
Last Post
Airplanes - Electric For Sale & WTB
General Electric Discussions
Currently Active Users Viewing This Thread: 1
(0 members and 1 guests)
Posting Rules
You may not post new threads
You may not post replies
You may not post attachments
You may not edit your posts
---
HTML code is Off
---