Add retracts to my Mig 3
04-29-2016, 06:27 PM
Super Contributor
Join Date: Oct 2010
Location: Ex UK Brit now in Latvia west coast - Ventspils
Posts: 12,594
Add retracts to my Mig 3
---
Now this was something that I wanted to do for ages but never had the courage to cut the wing. Well I had a beer or two ... grabbed wing and cut.
Sadly it was NEVER designed to have retracts fitted but I managed by foul means to get some in ...
Here she is with factory fixed set :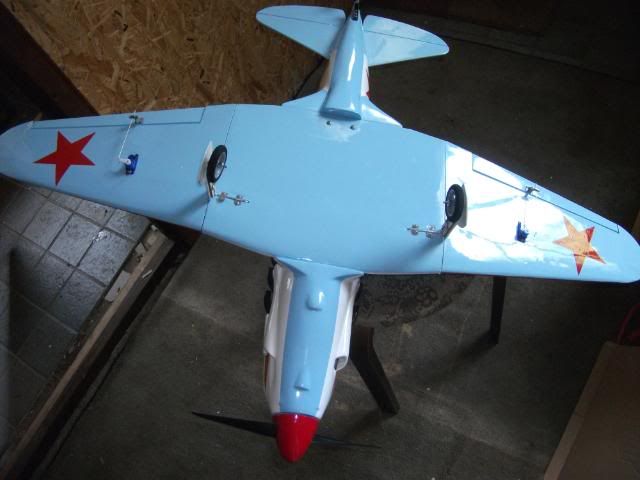 Now with the bodged in retracts :
One of the headaches was the plastic retracts have a stupid design of the main block. The two screws either side of working bit have a bulge from the body that only leaves a tiny sliver ... so the mount plate is very weak at that point. Mine kept splitting every time I tried screwing up. Metal body retracts don't have it.
Anyway its a rough job ... can't get that colour film either so in the end went to paint shop and got them to match paint to the film !!
Interesting to see how long they last !! It's not the friendliest model to land.
Nigel
05-04-2016, 09:08 AM
Super Contributor
Join Date: Oct 2010
Location: Ex UK Brit now in Latvia west coast - Ventspils
Posts: 12,594
---
She crashed through idiot pilot !

Flying nice ... then too slow in turn with gusty wind and highly tapered wing ... she stalled and spiralled into the tarmac ... video to follow.

She's a pig of a model - so will stay at back of repair list ....

Nigel
---
Last edited by solentlife; 05-04-2016 at

06:25 PM

.
05-04-2016, 07:37 PM
Super Contributor
Join Date: Oct 2010
Location: Ex UK Brit now in Latvia west coast - Ventspils
Posts: 12,594
05-04-2016, 08:49 PM
---
Ouch ! We all have days like these. In the airlines, the old adage has always been: Crashes come in threes.

Must give you a lot of credit though. You're crashes always have a high drama effect like splattering onto the pavement- LOL. Now that one and the 540T would have been a binner's for me. You'll probably have both looking brand new soon!

Cheers,

Hawk
05-04-2016, 09:13 PM
Super Contributor
Join Date: Oct 2010
Location: Ex UK Brit now in Latvia west coast - Ventspils
Posts: 12,594
---
To be honest - the Mig 3 looked good - but was always a pig to fly / land with its wing form. It will fly again ... but is not a priority at moment.

Zlin .... Edge 540 .... FW 190 are at top of list at present.

Cheers
Nigel
Thread
Thread Starter
Forum
Replies
Last Post
General Electric Discussions
General Electric Discussions
Currently Active Users Viewing This Thread: 1
(0 members and 1 guests)
Posting Rules
You may not post new threads
You may not post replies
You may not post attachments
You may not edit your posts
---
HTML code is Off
---