Problem with WLtoys v959
10-10-2014, 02:03 PM
New Member
Join Date: Oct 2014
Location: South Africa
Posts: 5
Problem with WLtoys v959
---
I seem to be unable to use my v959 to its full potential.
Every time I try to take a still image with the lower right button on the controller, the green LED on the camera flashes red about 3 times and then stops, not taking an image.
Also, when I try to record a video with the uppermost left button above the controller, it takes a still image every second time I press the still image button.
It has been like this since I bought it and bound it to the transmitter.
Any help will be greatly appreciated.
Thanks in advance.
10-10-2014, 03:27 PM
Super Contributor
Join Date: Oct 2010
Location: Ex UK Brit now in Latvia west coast - Ventspils
Posts: 12,785
---
Here's a review that explains the buttons clearly ...
Full article :
http://www.droneflyers.com/2013/03/r...r-with-camera/
The Camera
The ability to take videos with a stock camera is probably the single biggest reason that consumers would buy this quad, so it's worth taking a short look at the included camera. The camera along with it's mount and microSD card weight about 10 grams, which is quite a bit lighter than the famous Keychain cams. It slides into place from the rear of the aircraft and is removed in a similar fashion. The lens is hinged so that it can point anywhere from about straight (level) with the quadcopter to 45 degrees down, a feature which also provides an advantage over the Keychain Cams. The V959 Camera is powered by the quadcopter battery and the included 2G microSD card should hold about 18 minutes total. A USB stick included in the package will transfer the (.avi) video files to your computer.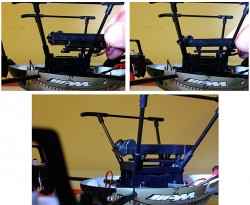 Installation or remove of cam
Lens in 45 degree position
Due to price and design constraints, the camera is low resolution – just 640×480, but provides 60 frames per second (60 fps), which seems to help stabilize the videos somewhat.
The camera can take still pics or videos, depending on which function button (on the Transmitter) you press. On my (US) copy, the operation is as follows:
1. Camera is powered up (steady green LED on bottom).
2. Record Video – Press the button on the top left of TX – to the left of the antenna on the top surface. The LED will blink red as it continues to record. Hit button again to stop recording.
3. Record Picture – note – these are of low quality! The second function button on my TX is at the lowest silver button on the right hand side of the LCD screen. Pressing it once will take a series of three (3) quick snapshots. The LED will blink red and then turn back to green.
Note that when any of these buttons are pressed, a small "function" message will appear on the lower right of the TX LCD. See TX layout pic for the exact location of the video and snapshot buttons.
Basicaqlly one button does one job .. other button does other ... they are not used together.
Nigel
10-12-2014, 12:27 PM
New Member
Join Date: Oct 2014
Location: South Africa
Posts: 5
---
Yes, I am aware of what each button is supposed to do, but, I cannot take video's with the top left button, instead it takes one picture. When I press the button that takes 3 snapshots, the green LED flashes red 3 times, but does not take any photo's.

I am wondering if it may be defective.
10-12-2014, 01:56 PM
New Member
Join Date: Oct 2014
Location: South Africa
Posts: 5
---
Ok, I have opened up the camera and cleared a bit of dust, it now seems the 3 snapshot function is working normally, but it still won't record.
---
Last edited by Hannes; 10-26-2014 at

05:25 PM

. Reason: fixed some spelling
10-26-2014, 05:24 PM
New Member
Join Date: Oct 2014
Location: South Africa
Posts: 5
---
Today I took it out to go and get in some photo's (the record function never even worked out of the box and still didn't). But, when I plugged in the battery, nothing happened.
I made sure the battery was charged and the transmitter was functioning normally. And so, after less than a year, the drone is dead. I am hopeless...
Any ideas?
10-26-2014, 06:15 PM
---
It's not you that is hopeless.....it's the WL Toys.
If you're still on a budget, look into a Walkera or Hubsan........they are a LITTLE more reliable....for toys....
Take a look at this site:
http://droneflyers.wordpress.com/
It could help you sort out the "junk" from the "decent"..........but you won't find and E-Flite Blade products there......IMO, the best bang for the buck of any micro, mini, macro quad available.......!
10-26-2014, 09:49 PM
Super Contributor
Join Date: Oct 2010
Location: Ex UK Brit now in Latvia west coast - Ventspils
Posts: 12,785
---
Hi P ..... seems strange that WL Toys are popular and many people enjoy them ....

I have both 911 + 959 and they have survived abuse and fly really well .... seems same as most other reports I read ...,

Nigel
10-27-2014, 08:19 PM
---
LOL....what's strange about that....?....there are over a hundred low budget mini, micro quads on the market that have had "popularity" globally.....!
I'm pretty sure cost and availablity are the foremost reasons why.....
As for "other" reports, If you have limited yourself to only researching "popular" public forums like RCG,ect.......and have spent the time weeding through the BS (as I have)......you'll find a fairly reasonable share of those satisfied vs. dissatisfied to be a 40-60 split.......disrearding those which either have un-reasonable expectations, clueless and or without expectation.
If you'd like a list of web-site (forums) that concentrate specifically on multi-rotor devices and craft (low & high end), I'd be more than happy to share that info....
10-28-2014, 08:10 PM
Super Contributor
Join Date: Oct 2010
Location: Ex UK Brit now in Latvia west coast - Ventspils
Posts: 12,785
---
P ... I have read loads of Quad reports .. not only here, RCG and many other sites .... the WL Toys gear is regarded as Garden use stuff and not serious contenders for Quad / Heli of the year ...

But they work and thousands have enjoyed playing with them. To label them Junk is unfair and tbh uncalled for.

No matter what brand of whatever item - you will always find good and bad reports. That's life. But to just advocate one side is called Bias.... and especially wrong if the author has not actually owned the items and just goes by others ramblings.

It all comes down to :

What you want to do with it
Will you take it seriously or is a bit of fun
Price.

I know the serious Brand name Heli Display guys in Latvia - who fly at venues I go to ... flying 450 up to the 800 sizes electric and glow .. These two guys are amazing. Guess what I see them playing with inbetween display flights ? Yep : V911 4ch FP WL Toys and the V9xx 6ch CP WL Toys jobs ...

Nigel
Thread
Thread Starter
Forum
Replies
Last Post
General Electric Discussions
RC Radios, Transmitters, Receivers, Servos, gyros
Currently Active Users Viewing This Thread: 1
(0 members and 1 guests)
Posting Rules
You may not post new threads
You may not post replies
You may not post attachments
You may not edit your posts
---
HTML code is Off
---