"Full Flying" wings - surely it's been done?
08-18-2011, 11:27 AM
"Full Flying" wings - surely it's been done?
---
I was looking at a plane with a "flying" elevator (also "all-flying," "full flying") - one in which the entire horizontal fin moves, rather than just the trailing edge.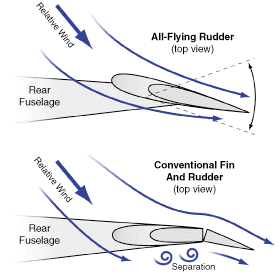 I was struck with the idea of doing something similar with the wings. Instead of having ailerons, the wings themselves would rotate.
Wings are really big and heavy, but maybe just the
tips
of the wing - the outboard 10-20% or so - would rotate.
Has this been done? (Everything's been done...) Is it a terrible idea? Or just a bad one?
08-18-2011, 12:03 PM
---
---
Last edited by pd1; 08-18-2011 at

12:23 PM

.
08-18-2011, 12:27 PM
---
Yeah.. it's been done lots of times. Usually the twisting wings would take over both aileron and elevator functions. Google 'pitcherons'

Other than looking cool and the novelty value I dont think there is any real measurable advantage.

Steve
08-18-2011, 04:26 PM
---
08-20-2011, 12:46 AM
---
Yes. The F-18 I believe has "flying stabilizers", as does the Dave Thornburg Bird of Time.

The original Wright Flyer didn't have ailerons, the actual profile of the main wings were changed ("wing warping", it was called).