Hello simmers.
Just completed the final versions of 3 models for
ClearView
,
FMS
and
RC Desk Pilot
of the
ParkZone Micro T-28 Trojan
.
__ClearView Version________FMS Version________RCDP Version_____

_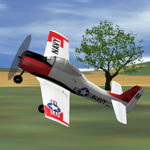 _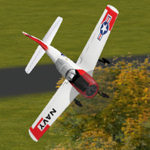 -
Notes: Parkzone shrunk their very popular T-28 and made it a
micro keeping all that made the larger version so popular.
The T-28 Trojan was used as a primary trainer from the 1950's
through the 1970's and saw a bit of combat too as deployed
in other areas. While fully capable like its larger sibling,
you'll want to fly this one in less wind but thankfully in
less space too, either indoor or outdoor.
Wing Span: 16.5 in / 419.1mm
Overall Length: 13.6 in / 346.1mm
Flying Weight: 1.34 oz / 38g
Motor Size: 8mm brushed geared pager motor
Prop Size: 130mm x 70mm
Radio: Proportional 4-channel DSM2
Battery: 1-cell 3.7V 120mAh 1S LiPoly
Steering: Steerable Nose Wheel
Please compare the sim planes to the real models and let
me know what changes need to be made and be sure to mention
the sim version in your comments.
Happy Flying!
-- ggunners