News coming in from our B.U.S.A Correspondent about action taken over the Christmas period ..
Report :
Mr. Iam Killjoy, rep. of Dept of Homeland Security just released information about an attempted unauthorised intrusion in US airspace.
Despite repeated warnings to the air-vehicle detected to turn away and desist from entering US airspace, the only replies received ran to the sound of YO HO HO.
DoHS then initiated Operation Shoot the B'd by deploying it's latest Stealth Interceptor
This latest weapon in the arsenal of DoHS being controlled by the new secret Mobile Command Stations :
The intercept proved successful despite initial arming problems of the Stealth Interceptor :
The "Intruder" being forced to land and DoHS land agents completing the final action in a swift and usual manner.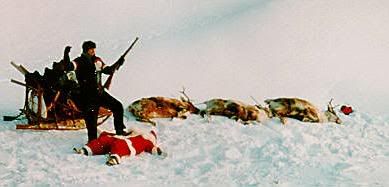 The DoHS wishes to state that the Defence of the Country is safe in their hands and that they will defend with all might to keep citizens safe in the knowledge they have all under control.
DoHS further wishes to convey it's deepest sympathy to Mrs. Claus, all the Elves and particularly to all the Children of the World.
Nigel